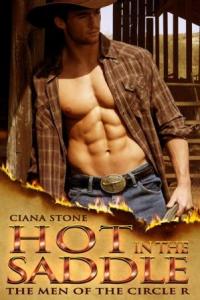 Hot in the Saddle
by Ciana Stone
Genres: western, romance
Available at Amazon.com and Amazon UK.
Four ranchers as hot as the Arizona desert – men more than willing for a night of loving, but who all think that love is not in their cards.
Four men, four stories, four chances to fall in love.
Book Excerpt:
Her eyes brought him a step closer to her. "Like you breaking down in Arizona and me running over you? You think there's some reason for that?"

"Yes."

"Then why don't you fill me in, Sassy?" His voice dropped to a low sexy growl that sent a shiver racing through her.

"You can call me Ana." She slid closer, so close that she could feel the wave of heat coming off his body.

"Does that mean we're friends now?" He moved in, placing one hand on her bare hip to pull her against him.

"No." She traced one hand up from his chest to his neck then on up to push his hat off his head and rake her fingers through his thick hair. "But we will be."
What others are saying:
"These four books kept me reading for almost two days straight. I only put them down when I got to tired to read and found myself waking up a few hours later to continue. The passion and love and the intrigue just don't quit." – An Amazon Reviewer