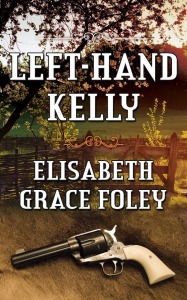 Left-Hand Kelly
by Elisabeth Grace Foley
Genre: Western
38,000 words
Sixteen-year-old Lew Kelly grew up idolizing his enigmatic ex-gunfighter father. Everyone thought Lew's habit of practicing his quick draw was a harmless amusement — until the day when a boys' hot-headed quarrel exploded into gunplay, with disastrous results.
Three years later, Lew is withdrawn and bitter — and he still carries a gun. When an unexpected twist of circumstances forces him to again face the memories and the aftermath of that ill-fated fight, will old wrongs be righted — or will the result be an even worse tragedy than before?
Left-Hand Kelly is available at Amazon US and Amazon UK.
Elisabeth, how did you come up with the title for your book? Does it have any special meaning?
The title comes from a nickname given to the central character, which plays a significant role in the story.

Who was your favorite character and why?
I'm not sure I have one favorite; I'm fond of almost all the characters. Lew Kelly and Claire Lester were my favorites to begin with, but as I went on writing I grew to like Bob Reeves and Matt Kelly quite a bit too.
Does your book have any underlying theme, message, or moral? 
I don't think I set out to give it one specific message when I wrote it. I suppose you could say some themes include family relationships, particularly between fathers, sons and brothers, and the effects of bitterness.
What would/could a reader or reviewer say about this book that shows they "get" you as an author?
That it fits in the traditional Western genre, but that it also stands as a solid story readers of any genre might enjoy, with its basis in character development and relationships rather than just action.
Give us an excerpted quote from your favorite review of this book:
"Foley's characters are both complex and well developed…The tale is beautifully paced, building through tense and frantic scenes to its neat conclusion."
Where can people learn more about your writing?
http://www.thesecondsentence.blogspot.com/