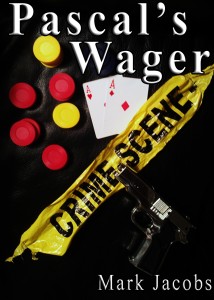 Today we have a sneak peek of author Mark Jacob's novel, Pascal's Wager:
Pascal Silver is an action junkie down on his luck. One of the best poker players alive, a losing streak has forced him to take work as a private detective. But when the gorgeous daughter of murdered casino owner "Houston Phil" LaPierre turns to him for help, he finds himself in over his head dealing with the cops, the mob and the enigmatic but beautiful Allegra LaPierre. Now he'll have to pull off the biggest bluff of his life to come out on top. And even if he does, he'll still be left with the question "Who killed Phil?" a question only he is shrewd enough to answer.
Pascal's Wager is available for 99 cents at Amazon.com, Barnes & Noble and Smashwords.
And now, from Pascal's Wager:
Toothpick started to take a step toward me when the rear window of the sedan rolled down and the guy in back said, "That's enough, Jackie. Let me talk to him."
I suddenly realized who the guy with the toothpick was. Jackie DiGuardia. Turco had pointed him out to me once in Michael Mina's restaurant. The mob didn't have much of a presence in Vegas these days but what little interests they did have all went through Jackie DiGuardia. According to Turco, he wasn't exactly a made man but he had some kind of nebulous ties back to one of the big mob families in Chicago.
"You, come over here," commanded the man in the car.
I strolled over to the sedan and looked inside at him. He was a middle-aged guy, maybe in his late forties, with neatly trimmed black hair flecked with grey and wearing an expensive blue suit. He had what looked like a Rolex on his wrist and seemed very dapper. But he was certainly no dandy. He turned his gaze on me and I returned it staring at him like we were dueling across a poker table. I had seen the same sort of look before from the very best players. He looked right through me with no emotion, like a great bird of prey eyeing a potential meal. I didn't know if he played cards but if he did, he would have been very good. He was the kind of guy who either knew how to control his feelings or had none to begin with. You would have as much luck trying to get a read on a rock.
"My name is Frank Savonarola," he said.
"Really? Burn any vanities, lately?"
He gave a very brief smile, devoid of humor.
"Naw. I don't do my preaching from pulpits," he answered.
I was impressed he got the reference.
He leaned his head a little further out the window and said, "You got a real wise attitude that could get you in trouble."
"Would it help if I told you guys I was a huge fan of the Sopranos?"
Savonarola merely shook his head in dismay and said, "I represent Vincent Molinaro. Mr. Molinaro was an acquaintance of the LaPierre family and is very disturbed by what has happened to them. He doesn't want to see any more trouble made for this family so he would like you to step aside and leave everything alone."
I didn't know who Vincent Molinaro was but I could make some assumptions.
"I wasn't aware Mr. Molinaro was friends with the LaPierres," I said. "Was his connection business or personal?"
Frank Savonarola made no answer, merely stared through me with his hollow gaze.
____________________________[subscribe2]