Today we have a sneak peek from the book by Rebecca Dinsmore and Allison Althauser entitled, The God Hater: Discovering Life After Death: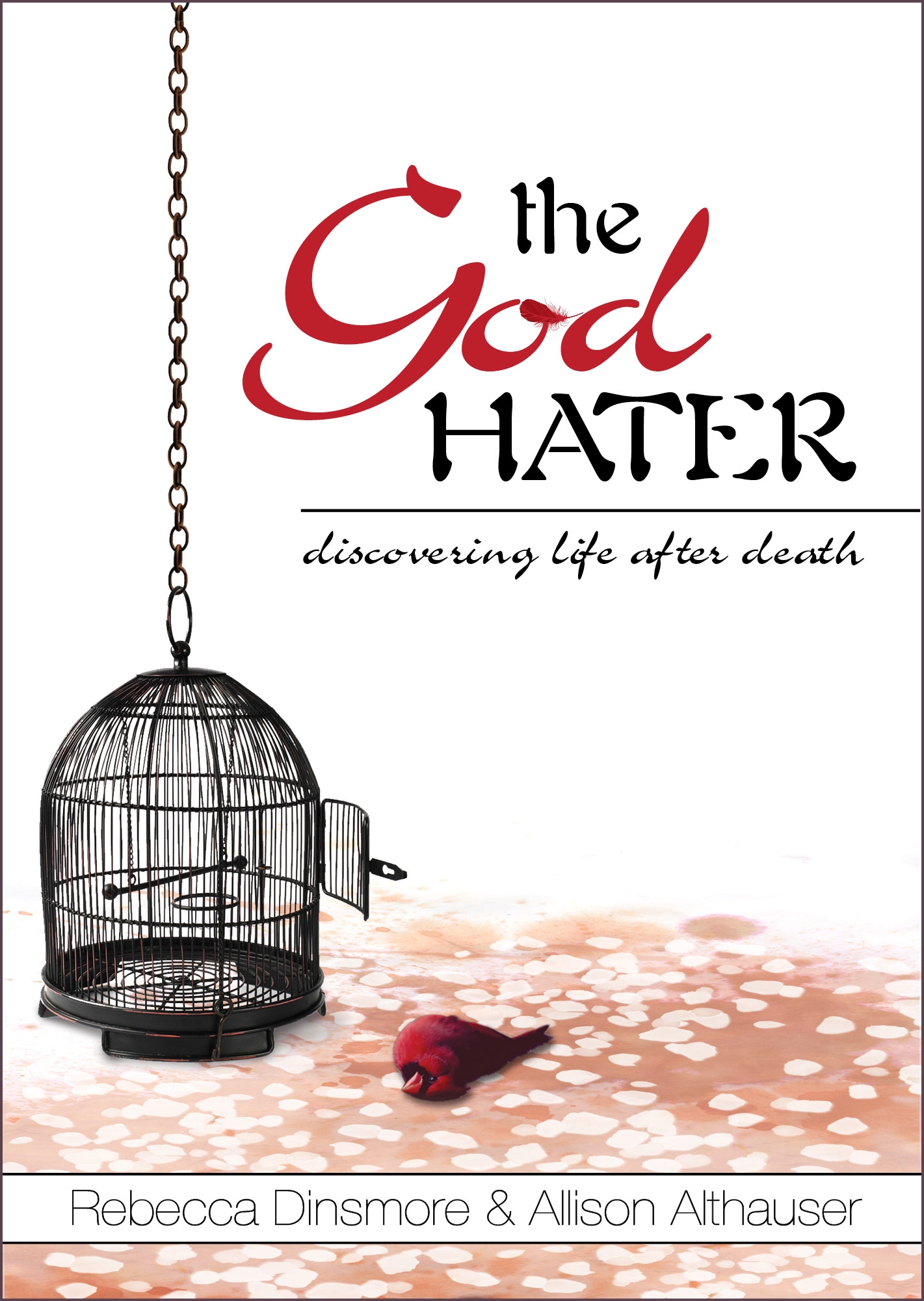 What do you do when the worst that can happen to you, happens?
Bekki Dinsmore was a passionate wife of thirty years, a loving mother of two sons, a gifted counselor and teacher, and a strong woman of faith. But when tragedy destroys life as she knows it, Bekki is forced onto a long road of brokenness and grief.
Experience firsthand her true story and compelling struggle of survival in the unknown, and the challenges of healing through suffering. Bekki embarks on a determined search for wholeness, while defying the source of her wound, only to find she has failed her way into surrender. As her foundational beliefs in God are shattered, she chooses to face the One who allowed her deep sorrow.
The God Hater is an uncensored glimpse into one woman's journey toward discovering hope within despair, trust beyond betrayal, and ultimately – life after death.
The God Hater: Discovering Life After Death is available on Amazon.com for Kindle and in print at http://thegodhaterbook.com/buythebook/.
And now, from The God Hater: Discovering Life After Death:
I avoided everything that reminded me of Ben like the plague. Pictures, mail, phone calls, his family, because any trigger would send me spiraling down the black hole. Many times my sisters found me collapsed on the bathroom, kitchen, or bedroom floor because something had reminded me of Ben. My physical body would buckle from the sudden, intense pain and I would just fall to the ground. I was crippled with grief.
My doctor would call to check on me every now and then, and had suggested that I talk to one of his friends. He gave me her number and, following his orders, I called her a few days later. At first, I had struggled telling someone I had never seen or met what I was going through, but the uneasiness quickly lifted when she told me her husband had died suddenly as well. He had gone out for his routine bike ride and never came home.
I was encouraged listening to her because she had made it through, that two years later, she was still alive. She had started the movement for the road signs that read, "Share the Road." She told me about a group that had helped in her grieving process, and then gave me details and directions. She also wanted to meet me there for my first class.
The thought of being with a group of strangers scared me, but I wanted answers. I was tired of asking the same question "why" over and over. I wanted a lifeline, anything to help me survive. When I had called to sign up, they told me I had to wait three more weeks for the next class to start.
Three weeks? I choked back; I'm dreading the next three hours. Three weeks is an eternity away!
In the meantime, I went along with whatever people wanted me to do, which was still mainly going to restaurants. I hated every second of being in public, outside of my comfortable seclusion.
I felt ragged and raw, like anyone who saw me would know what had happened to me; as if they could smell my shame over their steak dinner and think, "Here is the woman God has stricken."
I was ashamed, shamed for being a widow. But I didn't do anything; this was something that happened to me. God was the one who cheated on me.
He promised me that he had my back, while hiding a knife behind his. He took away something I believed and trusted in, someone I loved. I had thought God and I knew and understood each other and we were on the same page, like my plan was his plan. If anything, God should be ashamed. He gave me this weight.
I felt the residue of my crossbred southern Baptist / Pentecostal beliefs poisoning my thoughts, convincing me that I was being punished. Whenever the pain spiked, I somehow knew it must be my fault. I was paying my due penalty.
_______________________[subscribe2]