Author Vickie Johnstone contacted Indies Unlimited to announce a new release that is aimed at helping children's charities. Day of the Living Pizza is one of the stories included in The Gage Project –  put together by Inknbeans Press for Gage Bailey (author Nickie Storey-Bailey's son).
Vickie's story is part of it. "I've put it free (waiting for Amazon to make it so) to help drive traffic to the anthology. I hope it works! Until it goes free, all profits to the kids' charities," she says.
You can find many enjoyable stories, jokes and poems for children in the main book: The Gage Project profits all go to charity. Happy reading!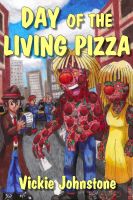 Detective Smarts of Crazy Name Town has a problem. Doctor Boring and his receptionist have been bumped off, and the only clues at the scene are some olives, tomatoes, mushrooms and sprinkles of oregano. With the town folk dropping like flies and strange figures stumbling down the streets, Officer Dewdrop has an idea.
Written especially for Gage Bailey and contained in the Gage Project book to raise money for children's charities. All profits go to charity. Thank you for helping.
This title is currently available FREE from Smashwords.