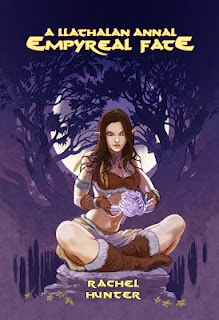 Filled to the brim with forbidden love, an ancient evil, and a nation in disrepair, Empyreal Fate is a tale of riveting bravery and mortal corruption.
The land of Llathala lingers on the brink of war between men and elves. Darrion, the son of a poor laborer, is ensnared in a hostile world, forced to choose between loyalty to his king or the counsel of the elves. Yet Fate has other plans in store, tying his course to Amarya, an elven royalblood of mysterious quality and unsurpassable beauty. But this forbidden connection incites betrayal from members of their own kin, marking them as traitors to the crown. In a land torn asunder, only Fate's decree can allow such love to coexist with an ancient enmity.
Behold: A Llathalan Annal: Empyreal Fate – Part One.
"The book is very intriguing, drawing one into a story that is very much alive. It is told from several character point of views, giving further insight into the distinctive world as each sees it. Once it begins, it does not let up, but carries the reader though until the last words on the last page, and then leaves you desiring to know more. It is nice to know the author intends to continue the series, and I very much look forward to the next installment. If you like reading about new worlds, this is definitely a keeper!" – An Amazon Reviewer
Empyreal Fate is available in print and for Kindle on Amazon.com.