Today we're pleased to announce the winner of the 21st weekly Flash Fiction competition at Indies Unlimited.
The winning entry is rewarded with a special feature here today and a place in our collection of winners which will be published as an e-book at year end.
A total of 33 votes were cast in the contest this week. The winner (with 33% of those votes) is Ed Drury.
Congratulations to Ed, and thanks to everyone who participated – excellent entries! Now, without further ado, here's the winning entry: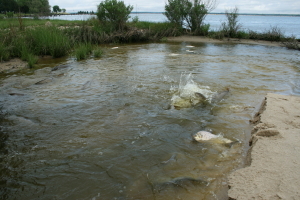 Gone Fishin'

by Ed Drury

We simply stood there watching the fish jump. I could tell Ron was at his wits end. He so wanted to be back within signal range so he could text his friends to make plans for the evening. Suddenly a dark shadow crossed over the two of us. A bald eagle swooped down directly in front of us grabbing a large silver fish in it's powerful talons. We watched in disbelief as the eagle rose up carrying the heavy fish. Its wings beat powerfully as it gained altitude and headed for the tree line. We watched as it skillfully transferred the fish into one talon and gently landed near the top of a tall Douglas fir tree. The bird looked directly at us for just a brief moment before tearing into the fish with its beak.
On the ride home, Ron was animated. "Have you ever been that close to an eagle before, Dad?" He asked. I smiled, "Never son." For the next fifteen minutes Ron went on and on about the eagle. As we neared town he pulled out his phone. "Texting your posse , eh?" I asked. Ron's smile touched his eyes in a way I hadn't seen for years.
"No Dad! I want to call Mom and tell about what a great day we had."
After hanging up, Ron watched me drive for a few minutes before asking, "Dad, can we come back next week with some cameras?"
What a fishing lesson!
*     *     *     *    *
The photo was taken in May 2008 in Hambrooks Bay on the Choptank River which feeds the Chesapeake Bay. Each Spring the carp come in to spawn in the fresh water at Pink's Pond and put on quite a show during low tide.