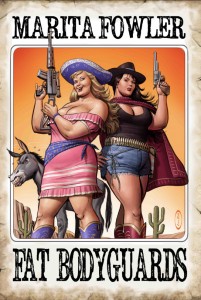 Today we have a sneak peek from the humorous novel by Marita Fowler: Fat Bodyguards.
Saucy calzones Shasta and Ulyssa have earned an honorary spot in the mafia with their wetwork, but the girls are ready to leave the crazy mob life behind and return to Nitro. They've got one foot out the door when a desperate Nicolo makes them an offer they can't refuse. A fat paycheck to take his daughter on a vacation far, far away from New Jersey. Paranoia fueled situations keep the girls on their toes, but they're caught flatfooted when attackers kidnap Princess and disappear without a trace. The only thing worse than guarding Nicolo's daughter…is losing her. Armed with plastic guns and southern charm, they set out on the most perilous adventure of their lives.
This book is available on Amazon, Amazon UK, Barnes and Noble, and other online retailers.
And now, an excerpt from Fat Bodyguards…