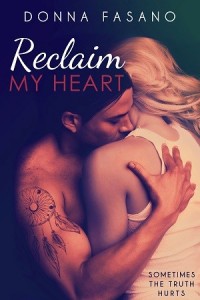 Today we have a sneak peek from Donna Fasano's romance novel, Reclaim My Heart.
Sixteen years ago, Tyne Whitlock cut all ties to her past and left town under the shameful shadow of a teenage pregnancy. Now her fifteen-year-old son is in trouble with the law and she is desperate for help. But reaching out to high-powered attorney Lucas Silver Hawk will tear open the heart-wrenching past in ways Tyne never imagined.
Forced to return to the Delaware Indian community where Lucas was raised, Tyne and Lucas are tempted by the heated passion that consumed them as teens. Tyne rediscovers all the reasons she found this man irresistible, but there are scandalous secrets waiting to be revealed, disgraceful choices made in the past that cannot be denied. Love is a powerful force that could heal them both–if the truth doesn't rip them apart.
Available from Amazon US, Amazon UK, and Barnes & Noble.
Here is an excerpt from Reclaim My Heart::