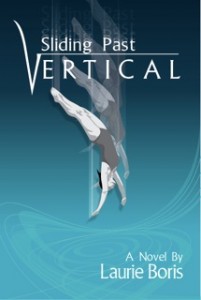 Today we have a sneak peek from the new novel by Laurie Boris, Sliding Past Vertical.
Sarah Cohen is a walking disaster. She means well, but the ex-diver's hasty decisions wreak havoc on her life in Boston. Good thing Emerson is a phone call away in Syracuse, with a metaphorical mop to clean up the mess. Their long-distance friendship can be excruciating for him, though. Years after they shared a brief college romance, he's still in love with her. When everything goes wrong, Sarah takes another plunge: back to the scene of her last mistake, to start fresh. Unfortunately for Emerson, the move puts her too close for comfort. Her attempts to straighten her life's trajectory are sometimes amusing and sometimes catastrophic. With Sarah around, is anyone safe?
Sliding Past Vertical is available through Amazon.com and Amazon UK.
Here is an excerpt from Sliding Past Vertical…