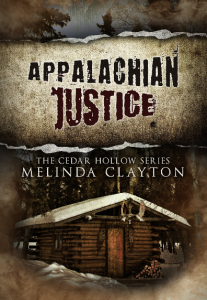 Depression-era West Virginia was hard; no one knew that better than Billy May Platte. Orphaned at fourteen, she survived on the kindness of the residents of Cedar Hollow.
But one terrible night in 1945 changed everything. When three local boys saw Billy May in a situation that called her sexuality into question, they orchestrated a brutal attack that nearly ended her life, and ultimately drove her into seclusion.
Thirty years later, Billy May finds a young girl whose life is in danger, and she must make a decision: Will she risk her own life to save the girl?
Appalachian Justice, the Southern fiction book by Melinda Clayton, is available from Amazon.com, Smashwords, Amazon UK and other online bookstores.

Don't forget, you can cast your vote for trailer of the month on March 29, 2014 at 5 p.m. Pacific time.