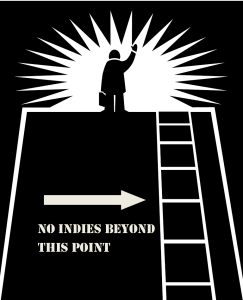 I was at dinner with a couple of friends recently and my buddy reached over and grabbed my wrist. He told me that his wife was using his credit card to pay for books on her Amazon account. She was buying books every day, and it was all my fault. After he released me, she leaned over and said she couldn't leave the house in the morning without checking her daily emails from three different book promo sites. We laughed it off and he admitted that secretly he was glad because even though she was buying more books than she had when she was buying print books she was actually spending less money.
She'd found those book promotion sites from Facebook posts that I'd promoted. Now she purchases books almost every day and she's very happy. She doesn't care who publishes the book; she just wants to find a good read, and sites like Bookbub, Peoplereads, and The Fussy Librarian offer great books. It's just that simple. I'm one of many who post links to these sites and others and it's helped them build their lists of subscribers. Things are changing though. A colleague pointed out to me recently that a book promotion website that we'd utilized in the past, (not one of those listed above), posted in their guidelines that their main emphasis was now on promoting mainstream published books. And they said they intended to only promote a limited number of independently published books. That means the majority of books on their site are published traditionally.
My first book had some major exposure in February 2012. In one weekend my book was featured on Pixel of Ink and Ereader News Today (twice). It was a very good weekend. Since then, little by little I've noticed that the major promotion sites are featuring more and more traditionally published books. I'm not referring to smaller sites; I mean the large sites that self-published authors rely on to get the word out about their books. In the past few months I've seen promotions featuring books by John Lecarre, Nora Roberts, Jude Deveraux, and Nevada Barr. In fact, when I ran a promotion a few weeks ago my competition for the day was a John Irving book. It felt great to be on the same page as an author who I've grown up admiring and I wondered if any of his readers might take a look at my book, but I also felt like saying, "Hey John, weird to see you here."
To some extent self-published authors have shown traditional publishing houses and traditionally published authors a new way to connect with readers. We helped build the subscriber bases for sites that began with a few hundred or even a few thousand readers to the point where one of them now has a reader list of two million. There are a number of successful sites out there and the professionalism amongst them has grown over the past couple of years. The system they use to showcase books that are either free or discounted is excellent. Readers tell the sites what they want to read and the sites direct them to books that are either free or on sale. We've watched new sites come into play and Indie authors have supported them. Through posts on Facebook, Twitter, LinkedIn, and other social networks we've helped readers find the places to go to find deals on books and we've helped show them how to discover new authors. We've done the heavy-lifting.
Two years ago it was still relatively easy to be featured on one of the major sites. Today it's far more difficult. Traditional publishers, or the smart ones anyway, see what we've been doing and they're attempting the same things. Check out your favorite book site and have a look at the books that are featured. I'll bet you recognize the authors and I'll bet a lot of them did not self-publish. It's an honor to be featured on the same pages as some of these authors but at what cost? Are self-published books being gently squeezed out? Does it mean that once again there are going to be some great books that readers won't find because the sites are concentrating on non-Indie publications? Or, should we just be happy that we're in the game and that it's a relatively level playing field?
None of the sites I've mentioned in this article are the site in question which is limiting the number of Indie books they feature. And, I understand there needs to be ways to monetize services so that the owners of these sites can stay in business. I get that part. It just makes me wonder if we're slipping backward a little bit. There are lots of ways to get the word out but the tried and true methods of seeing a solid return and selling books is by advertising through the book promo sites. If it's difficult today to be featured on the major sites I wonder how difficult it will be a year from now.