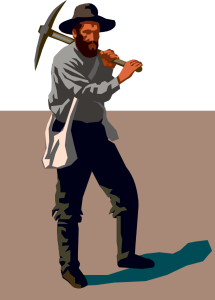 I was talking with another author, DV Berkom, yesterday about indie publishing. Both of us wrote as staff of Indies Unlimited and both of us agreed on a major reality of self/indie publishing.
Namely, that there was a "Golden Age" when everything came together at once and it was a virgin New World ripe for the taking… but that's changed.
A lot of the people whose advice we take on publishing–largely because we see their big successes as meaning they know what we should do–were very encouraging because of those successes, but it's important to realize that the environment in which they achieved them is no longer the same. Some might even say, no longer exists.
The SP superstars like Konrath and Locke jumped in when eReaders were as hot on the market as smart phones. Or, I would say, as hot as were–in other times–SLR cameras, dirt bikes, component stereos, flyfishing rigs, and mountain bikes. These things would come out and rapidly improve–sales and R&D feeding each other. Little stores would spring up, everybody seemed to be flaunting their new gadget, and bragging how it was hotter than yours. Then what happened was, everybody had one. And the diminishing returns on how fast a dirtbike can be, or how cheap a Japanese camera can get were approached. And the Camera Shack would turn into a Stereo Shack overnight and the parade would move on in different uniforms.
Worse, cheap and even free ebooks were pouring out of amazon and people were delightedly packing their hard drives full of books they would read someday–a day rapidly moving off into the next century. Hard drives hit their limits, enthusiasm over some new book FOR FREE! waned a bit. And amazon changed the parameters of internal promo.
So they were like The First Covered Wagon In The Land Rush… blasting headlong into the new territory with every inch of it available for steading a new home.
But what do we see now? Acres of little flags marking off private farms…and no open prairies ripe for raiding. It's a different world than it was just a couple of years ago.
And you have to question whether or not all of the advice still applies. Or if the same opportunities still exist. Going West, young man might still be good advice, but you have to figure you're not going to be able to become a demi-God with railroad land or have another King Ranch. And if there's still gold in them thar hills, you're going to have to find it and dig it out yourself.
I don't mean this to be discouraging. The important thing is we live in a miracle age for writers, where technology and market have flowed together to create opportunities unique in history. But it's not the same as it was for those we might emulate: you can't just wade in with a flag and claim the beach any more.
We'll get by. Markets mature. And those who think that you will starve in the absence of infinite expansion are naive. But it's important to keep the new situation in mind. And plan accordingly.
Maybe some who read this have some suggestions?