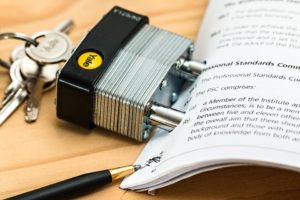 My understanding is that when an author publishes a book on Amazon that there is a box, pre-checked for your convenience, to elect putting DRM or Digital Rights Management on your book. I've also heard that once you say yes, you're stuck with your choice. I'm going to argue that the best choice is to unclick that box. But first, the case for sticking with the default.
Copying an MP3, ebook, or other digit content is normally a trivial exercise. You do it every time you send your latest opus to an editor as an email attachment, copy your final manuscript to an external hard drive for backup, or drag a copy of your work-in-progress to a jump drive so you can polish it a bit at work. (We'll pretend that last part is just while you're on break or lunch.) In essence, DRM is a scheme that is supposed to prevent someone from copying digital content or that prevents it from being used on a device other than those authorized. For example, if someone purchased your book and gave a copy to a friend, DRM should in theory prevent the friend from being able to read the book on their Kindle.
When presented with the choice of DRM most uninitiated authors are going to go with the default (that must be the best choice, right?) or investigate to see what DRM is, and end up at the same place. Why would you want to make it easy for people to pirate copies of your book? Think of all the money you'll miss out on from any lost sales. It seems like a logical choice. It probably isn't.
There are many good arguments that have been put forth for why piracy doesn't hurt the author. Some authors, Joe Konrath for one, have purposely made some of his books available on pirate sites and detected no change in sales patterns. What studies I've found indicate that Konrath's experience is the norm. If your book is being pirated, the majority of people who are getting your book wouldn't have bought it anyway. You might view it the same as running a KDP Select free day. Some number of people will get your book for free. Of those, lots of them will never read it. Some portion of those who do read it will like it well enough to search out your other books.
But the real reason for not putting DRM on your book is that it doesn't work. The real pirates can remove it and have a DRM-free version of your ebook file in less time than it's taken you to read this far. Anyone with a modicum of technical knowledge, the desire, and no qualms about doing what is technically breaking the law, can figure out how and get what they need to accomplish it without much more effort. Those who want to get past it, will. DRM is nothing but an irritating speed bump.
This leaves us with the people you should care about, your paying customers. Most of them won't care. However, there is a non-trivial portion of them who do. They aren't looking to rip you off (remember, they paid). But they have concerns about protecting their investment. They'd like to be able to backup their ebook library to their computer, in case their ereader gives out or they get an upgrade. Sure, they can download the individual books from the retailer in most cases, but that's much more time consuming than a mass copy/paste. Try downloading 100 books from your Manage Your Content page at Amazon. If they've used multiple vendors, it gets even more complicated. In fact, if your book is available at Smashwords, there is a non-DRM version available there. Why are you treating your Amazon customers different? Then there is the question of what happens if the vendor goes out of business. If I had a large investment in ebooks for a Nook, I'd be concerned. I'm sure there are people in that paying customer group who have other reasons why they'd prefer non-DRMed books.
Really what it comes down to is that the people DRM is intended to stop, won't be. The people it is intended to not effect, it might, even if only in minor ways. Why would you choose to do something which has only a minimal impact on the problem it is designed to cure if it will irritate even a small number of paying customers ?