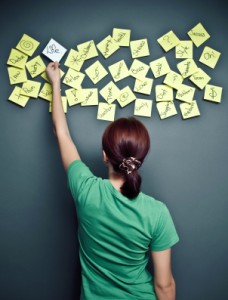 Recently I had a problem with the Amazon categories for one of my novels. However, I didn't realize it until the day my promotion started. I was listed in nonfiction. Ouch. It's not the first time I've been put in the wrong category. Kids can be so mean sometimes. At least with an automated system, I'm willing to forgive a few errors. Amazon has been very nice about it—even though sometimes they've introduced new errors in the act of correcting the original ones—but eventually we've gotten things squared away.
I was also put in the wrong category for a novel about two friends who used to have a relationship in college. Unfortunately, that one was on me. Amazon bots crawl through your keywords in an attempt to get you into tighter categories than, say, "general fiction." It saw "college relationship" in my keywords and put me into New Adult, even though a reader of New Adult fiction would have been disappointed to read what was essentially a drama about two people who are a little beyond college age.
And… it happened again, just last week. One of my books needed a sales boost. I also wanted to take advantage of the Kindle Store's fairly new divisions under literary fiction. The book is normally listed under "coming of age" fiction and under "literary fiction." [Note: I'd previously changed my "literary fiction" category to "non-classifiable" so I could ask Amazon to add a different category. See Jim Devitt's terrific post on how to get Amazon to move you into a category not shown on your dashboard pull-down list.]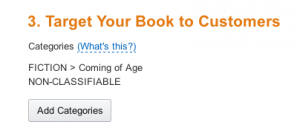 In my exchange with Amazon that followed, two things happened: Somehow my "coming of age" category got dropped. When I asked for it to be corrected, Amazon responded almost immediately and put it back. Although now I was also in "nonfiction." What the heck? Is it my hair? My wardrobe? Does something about me scream "nonfiction"?

If these things happen to you after your book is published, here's how to get back where you belong.

On Amazon 
1. Scroll to the bottom of your KDP dashboard page.
2. Click on "Contact Us."

3. Click on "Product Page."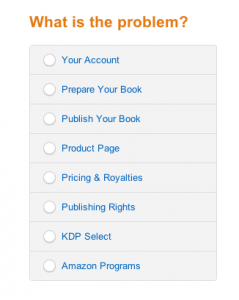 4. Use the "Or, ask your question here" box (because clicking on "change my categories" will only tell you how to go into your book details page and change the two that you are allowed.) Remember your ASIN number. Detail your problem. Be polite. Ask for your book to be moved into the categories you requested. State what those categories are.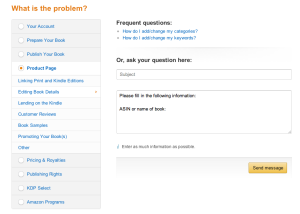 5. When they send an email to tell you the problem is resolved, check your categories to make sure another error has not occurred. Usually it will take (according to KDP) 24 hours for the correction to show up on your page. Although it took them five days and three emails to finally fix it.
On Smashwords
Lucky me! I have the same problem going on at Smashwords, but with a different book. My dramatic novel, which I'd entered correctly in my Smashwords listing (see below) ended up in "theater" on iTunes.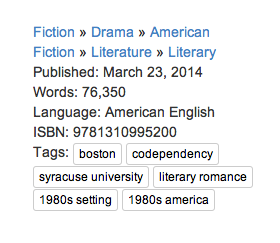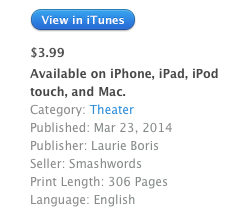 I adore the theater, but it's not where my book wants to be. Nobody looking for a litfic love story is going to find me on iTunes under "theater."
If you end up in a wrong, wrong category that was a result of distribution from Smashwords, first double-check the categories you listed in under SW (as I did), and then query SW's customer service peeps—not the distributor. Give them screen shots if possible of the retailers' pages that have the categories wrong.
A few days later, I received a response from Smashwords that to iTunes, drama equals theater. Apparently SW has been trying to tell them, "uh, no it doesn't" for about three years with no satisfaction. So I'm now switching up my Smashwords categories, hoping that will confuse iTunes into listing me somewhere readers can find me. Just go to your dashboard on Smashwords and click on "Settings" to change your categories.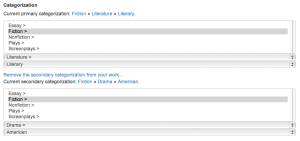 Eventually, though, most category problems get straightened out, but to avoid surprises, look at your pages once in a while.
1. Check the bottom of your product page once in a while, and definitely check it at least a week before a promotion.
2. Check your KDP dashboard listing to make sure you're still listed in the categories that you'd requested.
3. Check your pages at the retailers where Smashwords distributes your book.
Any questions? Category horror stories?