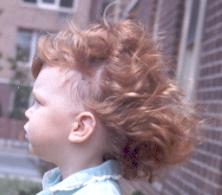 Some people write as therapy. Some people let their subconscious write. These are both cognizant choices that are made by the author as part of their craft. I'm not talking about either of those.
Have you ever written something that just popped onto the screen? Some strange character backstory – something instrumental in forming the character's personality – and then thought, "Well, that's weird. But it works, so I'll leave it." Has that ever happened to you?
Where do you think that came from? The simple, obvious answer is your subconscious. But what made you write that, really?
Was it something that happened during your character's childhood? Look in your own childhood. Is there a link? There just may be, if you're willing to see it.
Am I being cryptic? Probably. That's because your writing isn't going to reveal something obvious or inconsequential. It will clue you in on something so private, so profound, that you won't want the world to know what it told you. Because, there is more of us in our writing than we like to think.
When I wrote Night Undone, I ventured far outside my comfort zone. In an interview, I likened the publication of the novel to standing naked in the middle of a busy intersection. I didn't realize how true that was. I thought it was because I'd written a character-driven drama about a retired spy who felt her time was over – who'd outlived her usefulness. It was poignant, and not like anything I'd ever written before. Up until that book, it had all been about blowing things up. Explosions are gratifying. I didn't think anything else of it.
But when something makes you so uncomfortable that you feel like you are standing naked in the middle of a busy intersection, perhaps that needs to be more closely scrutinized. Was it really just because I was writing outside of my normal genres? Probably not. There was a secret hidden in the book. A code – a key to unlocking a deep, dark torment that has haunted me all my life. And I had no idea.
In one scene, Special Agent Night recalls how her father had never wanted a daughter, and had cursed her for not being born a boy. I had no idea where that came from, but it worked, so I went with it. In one of the upcoming sequels, I expound on it, and it turns out to be a major factor in Agent Night's childhood and life. The repercussions of this one, seemingly minor brain fart mushroom into a driving force behind what's right now a ten-book series. Yet still – I thought nothing of it. It wasn't about me. It was about her.
My own father truly wanted a daughter. I know that for a fact. My father treated me like a princess. I was very lucky to have my dad. So, where did that resentment from Agent Night's father originate? As it turns out, it was a clue to something else from my childhood. Something I couldn't see. And maybe, just maybe, I wasn't ready to see it.
I wrote Night Undone in 2010. Just this week, in 2014, nearly four years after I started writing that novel, a family incident caused an epiphany. It made me see what Night Undone was trying to tell me in its own, misdirected way. A statement, out of context, overheard by a six-year-old me – festering for over forty years… and what a relief to have that now lifted off me.
The subconscious is a powerful and amazing thing. Writing is also a powerful and amazing thing. It is available to us as a vehicle for the subconscious to use if we, as authors, are being true to ourselves. And, if we are willing to listen, our writing will clue us in to the deep-seated incidents that plague us. Writing wants to help us heal. But we have to be ready.