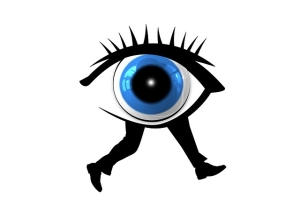 His hand grabbed the door handle, and he burst into the bedroom.  She was lying on the bed…his eyes flew across the room and landed on her heaving bosoms.
I haven't actually come across those exact words; it's not a direct quote, but I have come across many, many autonomous body parts, such as:
Heads nodding, shaking, snapping down, lifting, appearing round doors—that one does worry me a tad:  reminds me of a scene in Harry Potter.
Fingers curling, grabbing—you really have to watch fingers; they get everywhere.
Hands clutching
Eyes widening, locking, studying, reading, following—following? Don't know about you, but I like my tall, dark and handsome to have his deep-brown adoring eyes firmly in his sockets.
Mouths gaping
Arms waving and flailing
Feet wandering
All of the above are examples I've read.  All members doing their own thing in their own time and very ably on their own, thank you very much.  But body parts do not have a life of their own:  they don't have jobs, mortgages, holidays and two point four children.  They are very, very firmly attached to our bodies, and our brains do a very good job of enabling our limbs.
Such phrases where hands, eyes, lips, heads, arms, legs leading independent lives may well cause a bit of a titter of amusement when read for the first time in a book.  The trouble is, they aren't written to cause mirth:  they're written, very seriously, to try and evoke passion or drama or atmosphere.  It doesn't.  The image of eyes rolling around independently of their owner simply detracts from that passion and drama the author is trying to create.  The reader is probably going to divert his attention to the image s/he has of eyes rolling around out of control, like escaped marbles, all over the floor.  I'm not saying authors should red-pen every breakaway body part:  some actions are involuntary, like twitching lips or eyes, or hands shaking (in fear, for example), or hearts racing, and of course, other, ahem, bits and bobs that may act autonomously in scenes of passion.  Judgement is required:  it may be worth standing back and just checking that the disembodiment is feasible.
Let's try and keep body parts attached to their owners, for the most part, so that they can control them.  Let the character control his arm waving, head shaking and finger curling.  Or, by the end of the book, the poor chap will be completely limbless.