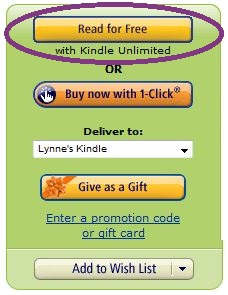 You'd have to have been living under a rock for the past week (or on vacation somewhere where there's no internet) to have missed Amazon's big news about its newest feature, Kindle Unlimited.
For the low, low price of $9.99 a month, Amazon.com will let readers download an unlimited number of ebooks and audiobooks from its special Kindle Unlimited store. (Those of you who are forced, by geographical happenstance, into shopping from Amazon's other storefronts are out of luck. Sorry about that.) And this month, Amazon's making the service free, so everyone can try it out.
This would seem to be a boon for the voracious reader. One trad-pubbed novel can set you back $9.99 or more, and a single audiobook costs easily twice that. The drawback for readers, though, is that Big 5 books are severely under-represented in the KU store. So people who pick books based on the bestseller lists are going to be disappointed. There are other factors limiting reader interest in KU, but I'd rather talk today about what this means for indie authors.
The good news for indies is that we have an easy way into the KU store: all you have to do is enroll your book(s) in KDP Select. Which is also, of course, the bad news, as all of the usual complaints about participating in Select apply here. (Amazon opted in every title in Select to start with, but you can opt out.)
Moreover, Amazon hasn't been terribly explicit about how we'll be paid, other than to say that KU purchases will be paid out of the same fund Amazon uses for Kindle Owner Lending Library borrows. But author payments on KU purchases will be treated differently. For KU, authors will be paid only when the reader gets to ten percent in the book. Amazon beefed up the fund for July due to the KU rollout, and I think it's reasonable to expect the Zon will increase the funding level every month, going forward. In his article about KU, David Gaughran says the KOLL fund has historically averaged about $2 per borrow. So assuming you can hook readers into getting to the magic ten percent mark, you can count on about that much per KU purchase.
Indies love to talk strategy, of course, and a number of folks are already trying to make this new feature work to their advantage. If you write shorter works, the reasoning goes, and throw them up on KDP Select with a list price of 99 cents, you'd have a good chance of a reader getting to ten percent very fast – and you would earn twice as much on each book as you would for a purchase at the list price. Moreover, it appears that for now, at least, Amazon is treating KU purchases the same as full-price paid sales for ranking purposes. This could be a great way to boost your visibility and maybe bring in sales for your other books.
By happenstance, I'm bucking the trend to a degree. I only have a couple of things in Select right now – a short story called "Lulie" that never sells, and the Pipe Woman Chronicles Omnibus. KU downloads of the omnibus will cost me money, as I'll earn less on them than I would on a regular purchase. But if people read the omnibus and like it, then maybe they'll shell out for the Land, Sea, Sky books, which are not in Select. And if anybody ever bought "Lulie," I'd make money on the sale.
There's a very real chance that reader interest in KU will drop off next month, when people have to start paying for it. And there's also the problem of promotion for KU titles. It's unclear as I write this how Amazon will treat affiliate earnings on these books; that may limit advertising opportunities on the big promotional sites, at least in the short term.
In the meantime, though, Amazon has given us one more tool to reach new readers. How is it working for you?