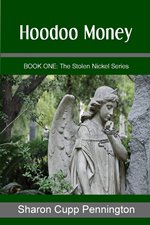 Hoodoo Money (The Stolen Nickel Series Book 1)
by Sharon Cupp Pennington
Genre: romantic suspense
89,000 words
After her almost-wedding to a bigamist, successful children's author Braeden McKay has given up on love. She's content to live vicariously through her imaginary heroine, Platypus Pearl, and a gaggle of adventurous, web-footed cohorts – until a working vacation in New Orleans shakes up her quiet, structured world. Had she known that souvenir nickel stolen from the grave of a hoodoo woman would catapult her into a nightmare of betrayal and murder, she would have insisted her friend put it back. Cursed nickel or unfortunate happenstance? Sanderson Montgomery isn't one to discount the supernatural beliefs of others. This is the Big Easy, after all, Mecca to the spiritual and the superstitious. As a veteran detective, neither does he ignore cold, hard fact. And the fact is, someone or something is bent on harming Braeden McKay, and it's up to him to protect her while keeping his heart out of the mix. Can love, the very thing Braeden wants no part of, be the one force greater than any adversary – even a hoodoo curse?
Hoodoo Money is available at Amazon US, Amazon UK, and Barnes & Noble.
Sharon, how did you come up with the title for your book? Does it have any special meaning?
The title, Hoodoo Money, actually came from a New Orleans' guide book. Not very glamorous or romantic, or even creative. But the moment I read those words, I knew it was the perfect title for my novel. The stolen nickel theme is carried throughout the series.

Who was your favorite character and why?
Two of my favorite characters in Hoodoo Money are Bull Scully and Elizabeth, but oddly, the older couple play such a brief part. I'm planning a "side-bar" novella later where I'm giving myself the pleasure of uniting the two.
Does your book have any underlying theme, message, or moral? 
Most readers pick up a romantic suspense as a form of escape. I know I do. I hope I have delivered enough mystery and atmosphere to take them on a grand journey, with enough "sizzle" thrown in to make them want to come back.
What would/could a reader or reviewer say about this book that shows they "get" you as an author?
Hmmm…I suppose that my storytelling skills placed them "there," be it in New Orleans or hot and humid Texas. That they left Hoodoo Money not only knowing my characters, Braeden and Montgomery, Coop and Angeline (even old Etienne Raison) but having invested a bit of soul in them.
Give us an excerpted quote from your favorite review of this book:
"Every facet of the human condition is painted skillfully across the broad canvas of a vibrant and often dark New Orleans, where curses are weighed on a single nickel – or are they?"
Where can people learn more about your writing?
http://sharonpenningtonwrites.weebly.com/