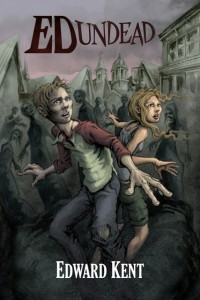 I never believed that I would have to live through a zombie apocalypse. One day I was Ed Kirk, a normal sixteen-year-old boy with a loving family, a beautiful girlfriend, and a full life ahead of me. Now I'm on the run from zombies, being hunted by a dark force that threatens my very existence, all the while trying to escape this town and find help. Oh, yeah, one more thing: I'm a zombie too!
Ed Undead: The Chronicles of a Teenage Zombie, the young adult paranormal novel by Edward Kent, is available from Amazon.com and Amazon UK.
Don't forget, you can cast your vote for trailer of the month on February 28, 2015 at 1 p.m. Pacific time.