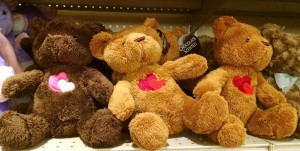 The bear in the middle is Ursula. She always felt she was destined for a special purpose – maybe as a gift to a sick child or as a favorite toy.
Though she was passed over again and again, Ursula kept a cheery and hopeful disposition.
But at last a year had gone by since she had been unpacked and shelved. The store manager gathered up the unwanted toys and put them in a bargain bin in an effort to unload them before Valentine's Day. As the day wore on, every toy was picked except Ursula…
Welcome to the Indies Unlimited Flash Fiction Challenge. In 250 words or less, write a story incorporating the elements in the picture and/or the written prompt above. Do not include the prompt in your entry. The 250 word limit will be strictly enforced.
Please keep language and subject matter to a PG-13 level.
Use the comment section below to submit your entry. Entries will be accepted until Tuesday at 5:00 PM Pacific Time. No political or religious entries, please.
On Wednesday afternoon, we will open voting to the public with an online poll for the best writing entry accompanying the photo. Voting will be open until 5:00 PM Thursday.
On Friday afternoon, the winner will be recognized as we post the winning entry along with the picture as a feature. Then, at year end, the winners will be featured in an anthology like this one. Best of luck to you all in your writing!
Entries only in the comment section. Other comments will be deleted. See HERE for additional information and terms. Please note the rule changes for 2015.