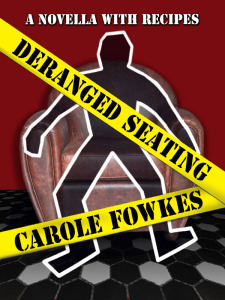 Deranged Seating
by Carole Fowkes
5 star average on 8 reviews
71 pages
In James's fantasy life, he's a hard-boiled private detective whose internal monologue sounds like a Mickey Spillane movie. In the actual world, he is a bright young man, bored and stifled by his job as a society page reporter. That is, until his assignment at a high-society fitness party gets him involved with massage therapist Courtney, a good-looking dame with a tough problem. A healthy man dies in her massage chair and she can't explain it. Despite warnings to leave it alone, James starts to investigate. This leads him to Lester, a wisecracking old-timer who recalls a friend who died in a similar way. Others die and the bodies are piling up. But there's no explanation, at least not if you're from this Earth.
Deranged Seating is available at Amazon.com, Barnes & Noble, and Amazon UK.
Excerpt from Deranged Seating by Carole Fowkes

Sitting in front of a small, neat Cape Cod home, James thought about what he would tell Lester. His mind kept drawing a blank, which was why he had chosen to drive to the man's home without calling first. He didn't want to risk a phone conversation the old reporter might interpret as a prank. James decided the best way to handle this was to tell the guy the truth.
Lester answered the door on the first knock. Short and chubby, with a pink scalp showing through lonely hairs, he wasn't what James had expected. Lester greeted him with a gruff, "Yeah?"
Lester glanced at James' newspaper credentials and invited him in.
"Want some coffee? Too early for a beer, I guess." When James didn't respond, the old man shrugged. "Oh hell, it's never too early for a beer. Join me?"
"Thanks, but no thanks. I'm really here just to ask you some questions about, well, about some," he looked down, "body markings."
"Speak up. Can't hear real well without my hearing aid. Don't wear it much since my wife, Marlene, died." Chuckling, he added, "I'm not sure anyone says much I want to hear anymore anyway."
James moved closer to the man and cupped his hand to his mouth. "Since you've written so many obituaries, I thought you may have heard sometime about markings on a body."
The man's head jerked back a bit. "What kind of markings?"
"Circle with a purple dot in the middle."
The old man's eyes widened. "Where'd you see them?"
"A guy's forehead and another guy's back."
"No, where were you when you saw them?"
"I didn't exactly see the markings, only pictures of them. Both men had been taken to Memorial and someone there had snapped pictures." Hope sprang within James. "Sounds like you know what I'm talking about."
"Let's get us both a beer."
James sat on the worn sofa, glancing at the mess of papers on the table next to it.
Joint's a mess.  I'll bet a C-note the guy's planning on taking a powder.
Lester returned with two cold bottles. And he was wearing his hearing aid. "Hope you don't need a glass. They're all dirty." He eased himself into a brown leather recliner that, from the looks of it, was familiar with the old man's contours.
James took the beer. "So you've seen those marks?"
Lester took a long, leisurely swig. "You know, I love a good beer. Always have. None of that 'lite' crap for me." He took another sip. "Yeah I have. On a friend, Joe Snider. Joe and I go way back. I went to see him at the retirement home about a month ago. Sat there talking. Next thing I knew, his head slumped over, like he dozed off. I shook him. Lifted his arm. I don't know, to see if he had a pulse. On the underside of that arm, I could see the pattern from the armrest's material. But there was something else. A circle with a purple dot in the center. Then I called the aide. Anyway, Joe was gone."
James took a big gulp of the quickly warming beer.
Is this guy on the level, or is he a just a boozehound with a bunk story?
The young reporter looked at Lester and went with his gut. "So that makes three."
Lester finished his beer. "That we know of.  My guess is there's more. We just don't know about them yet." Lester heaved himself out of the chair and raised his empty beer bottle.  "Want another one?"