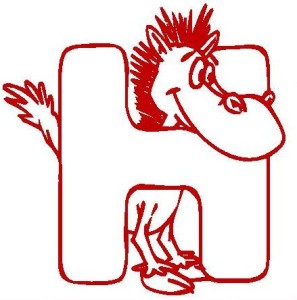 Not long ago, a publishing friend of mine asked me a question, as she was having a teensy little contretemps with an author, whose book she was about to publish.  He was so insistent that the part of his book's title, which contained the word 'historical', should be 'an historical'.  In fact, he was so insistent, it made her doubt her own knowledge.
So, let's try and clarify this.  'H', when aspirated, i.e. pronounced with a 'huh' sound, is a consonant. Words that begin with a consonant, when preceded by an indefinite pronoun, are therefore introduced with 'a'.
Examples:
A horse
A happy day
A huge animal
A holiday
A heart
A hippie
A healing potion
A handshake
A hybrid
All words beginning with the word 'h' are followed by a vowel or vowel sound (y).  Therefore, if the 'h' is silent, the word sounds as if it starts with a vowel.  All words beginning with a vowel, when preceded by an indefinite pronoun are introduced with 'an'.
So, examples:
An hour (an 'our)
An honour (an 'onour)
An heir (an 'eir)
An honest man (an 'onest man)
The vast majority of 'h' words are with an aspirated 'h'.  The number of silent-'h' words are in fact very few.
Colloquially or conversationally, some words may lose the intensity of the aspirated 'h', such as 'hotel' or 'horrific' and in those cases the speaker will use 'an'.  However, in good written English, these should be 'a hotel' and 'a horrific accident'.