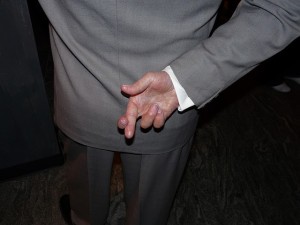 Recently I was beta-reading a book for a friend. He had told me before I began reading that it was a "new-age thriller." I wasn't quite sure what that meant, but it sounded intriguing, so I was all in. As I read, though, and the story unfolded, I kept looking for those thriller sequences but they were nowhere to be found. I found myself getting frustrated, wanting to get into the meat of the genre, but the narrative was taking its sweet time. Finally it became clear to me that this book was not a thriller. It had a very few thriller elements, but they actually only occurred in the last 10% of the book and they were not anywhere near the fast-paced, clock-ticking, heart-pounding sequences I was used to (and expected). While the book was good as far as it went, and well-written, it was decidedly miscategorized, and I told him so.
We had quite a back-and-forth over this; he made his case for the category, I came back with, "Yeah, but…" It was obvious that he really, really wanted to categorize his book that way, and yet I explained to him how frustrated I got when my expectations were not met. Having a few of the genre elements in a fraction of the book was not enough for me to substantiate that designation.
Somewhere along the line, this all brought the O.J. Simpson trial back to my mind. Huh? Let me explain. If you were around then, watching TV, you might remember mention of the "spaghetti defense." This consisted of the defense team throwing everything they had against the wall and seeing what stuck. What this author wanted to do was the same — he wanted to tag his book with every genre that might apply, hoping he could pull in readers across the board. Actually sounds like it might be a good idea, right?
Wrong.
Readers are smart. They know when they're being tricked. They know when they're being teased, and they don't like it much. I don't blame them. You think you've bought a blue fleece blanket and when you get home, you realize it's a purple pillow cover. Not a happy camper.
I actually made this same mistake early on. I have several romances on my back list, plus one that's a totally over-the-top, irreverent satire that makes fun of every cliché of that beloved genre. (Even the bad guy had alabaster thighs.) The mistake I made was not making that clear in the book description. Instead of highlighting the satiric nature of the book, I described it like any other sweeping, epic saga of love and lust. To my mind, it sounded over-the-top and I thought that would be enough of a tip-off, but one reader clearly did not feel the same. She slammed me with a one-star review. After reading her review and re-reading my description, I realized where the disconnect was. She was expecting a regular romance. She got x-rated puns and gleeful lampooning. Yeah, not happy.
And I don't blame her. That was my error. I've since changed the description so it's really clear what the book is like, but of course that one-star review still stands. A testament to my neglect.
So back to my friend. I'm not sure what he's going to do. I made my pitch, and now it's up to him. But I really hope he reconsiders. Trying to pull a fast one on readers never works. My hard-won advice, both as a writer and as a reader, is to describe and categorize a book as it is, using the strength of its true genre and not the weakness of what blurred lines it might cross over. Save the spaghetti defense for the courtroom. You and your readers will thank me.