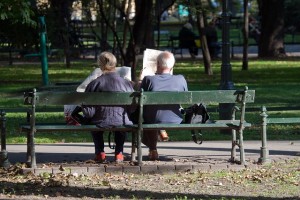 What's a writer's biggest challenge? Apart, that is, from writing great books? Bringing those books, and the name of the author, to the public's attention. It's a never-ending job. We not only have to keep writing, keep putting out new (and better) work, but we have to get our names out there so people will notice. Yes, that means social media; that means online forums, that means book fairs and book signings and radio and TV interviews. But there could be a local outlet that's right under your nose: blogging for your local newspaper.
I happen to live in a small town (~10,000 people) in northern Arizona. The nice thing about small towns is that the local media is usually very receptive to local talent. While chatting recently with a friend, a staff reporter for the Camp Verde Bugle, he suggested I apply for a blog at the newspaper. My first reaction was (1) I didn't even know the paper had those, and (2) just what I need (*groan*), another blog. This, however, was going to be slightly different. Both my friend and I are photographers, so after sharing some of our more interesting shots with each other, he urged me to start a photo blog. Hmm, that was new. While I have, at times, entertained the idea of doing a photo book at some point, it's far from the top of the priority list. But a blog …?
This appealed to me on several levels. First off, it didn't have to be a long dissertation. The main thrust would be one photo per post, plus a brief description of where and when and how. Not so much what camera, what speed, what exposure, but what was going on, what brought the scene to my attention. Brief was good. I tend to spend about two days on every blog post about writing, wanting it to be the best it can be, so quick little vignettes about a photo could be worked into my schedule quite easily. The second advantage? You got it — getting my name out there. If every couple of weeks people read my blog, see my name, they just might, at some point, check out my books. Can't hurt, that's for sure.
But wait, you say. I'm not a photographer! You don't have to be. What else do you do in your spare time? What other talents lie beneath the author surface? Do you love to cook? Love to tweak recipes into your own personal style? Do you garden, and have you discovered some nifty ways to display your plants or keep varmints from your vegetables? Do you love to hike and have mapped out many of the trails in your local area? Are you handy with a wrench or do you turn your hand to carpentry? Whatever latent talent you have could become a blog. Whatever you've learned could become an ah ha moment for someone else.
Now I'm not saying this will project you or me into the celebrity stratosphere. I'm not expecting any kind of a sales bump from this, but … you never know. This is just one more tool in our kitbag. One more plank in our platform. With the digital world at our fingertips, it would be easy to overlook the communities right outside our front doors, but why? They're people; they're readers. And people like to buy from people they feel they know.
So who's with me? What have you got to share? Come on, you know you want to. Just find one tiny little thing that you can share with your neighbors. And if you'd like to get an idea of what one of these blogs looks like, you can check out my new photo blog here.