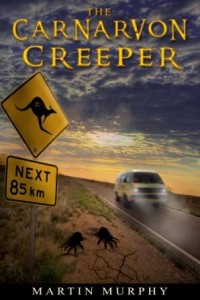 The Carnarvon Creeper 
by Martin Murphy
Genres: Horror
Word Count: 30,749
For decades, during each December, people have been disappearing from towns across the west coast of Australia. The number of missing is mounting, the bodies never recovered, presumed lost amid the vast, unforgiving landscape. A grieving traveller will be dragged into the mystery in the remote outback before he comes face-to-face with a nightmare beyond his worst imaginings…
The Carnarvon Creeper is available on Amazon.com and Amazon UK.
Martin, how did you come up with the title for your book? Does it have any special meaning?
The Creeper part of the title draws a parallel with a creeper plant, representing the creature in the book and the ability to spread its influence in an ongoing hunt for fresh victims.
Who was your favorite character and why?
Joe Rafton, the protagonist. Having already fallen victim to tragedy, he must then face another terrible experience – just at the point he feels he has begun to come to terms with all that has happened to him. But he keeps fighting, physically and mentally, against all the odds.
Does your book have any underlying theme, message, or moral?
There are a couple of key themes. One is environmental, with the creature in the story becoming a metaphor linked to the damage inflicted on the planet by humankind – particularly the desecration of sacred Aboriginal sites resulting from capitalist exploitation.
What would/could a reader or reviewer say about this book that shows they "get" you as an author?
By drawing attention to some of the broader issues in the story that lurk in the background as it unfolds: not least Joe Rafton's thoughts on dealing with tragedy, and on his own mortality.
Give us an excerpted quote from your favorite review of this book:
"The tale of Joe "Chilli" Rafton is heartbreaking, terrifying, and somehow reassuring all at once."
Where can people learn more about your writing?
http://www.mmurphyauthor.com/