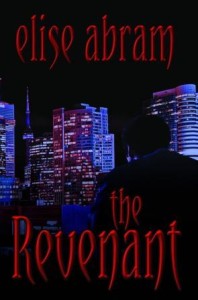 The Revenant
by Elise Abram
Genres: Young Adult Paranormal
Word Count: 62,238
Raised from the dead as a revenant more than a hundred years ago, Zulu possesses superior stealth, superhuman speed, and a keen intellect. His only companion is Morgan the Seer, an old man cursed with longevity and the ability to see the future in his dreams. Zulu has spent the last century working with Morgan in order to save the people in his nightmares from horrible fates. Branded a vigilante by the media, Zulu must live his life in the shadows, traveling by night or in the city's underground unless his quest demands otherwise.
Morgan also has enemies. His twin brother Malchus, a powerful necromancer, is raising an army of undead minions to hunt Morgan down. If they can't stop him from raising his army,  killing someone as powerful as Malchus will be impossible. And there is much more at stake than just their own lives.
The Revenant is available through Amazon.com, Amazon UK, and all major online bookstores.
Elise, how did you come up with the title for your book? Does it have any special meaning?
At first I wanted to write a vampire story, but I needed something to distinguish Zulu from other vampires, so I did a bit of research and stumbled on the idea of a revenant, a supernatural being sharing a lot of traits with vampires, and the name stuck.
Who was your favorite character and why?
That's kind of like asking me to pick my favorite child. I think I identify most with Father Paul. As a priest, he's devoted most of his life to rules that order the universe in a particular way, rules he's forced to rethink after meeting Zulu and his gang.
Does your book have any underlying theme, message, or moral?
If I had to pick one, it would be persevering in the face of adversity. All of my characters face obstacles that seem insurmountable, but they must bury their fear, stretch their abilities to the limit, and persevere in order to survive.
What would/could a reader or reviewer say about this book that shows they "get" you as an author?
The Revenant is a YA book that challenges its readers. It tells a good story with themes relevant to teens that aren't preachy in their delivery. I want my readers to like the characters and register the themes, but to enjoy the story first.
Give us an excerpted quote from your favorite review of this book:
"[Zulu] thinks of Morgan, the seer, as his Alfred. His mistake is trying to force Kat into the role of Spider-Man's Mary Jane [when it's] clear…she is his Robin."
Where can people learn more about your writing?
http://eliseabram.com