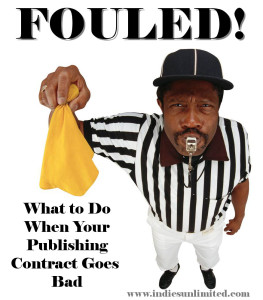 Welcome to March. This month we're doing something a little bit different – we're having a theme month. Spearheaded by the lovely Lynne Cantwell, we're going to feature articles from minions and guests alike about being scammed by publishers. We want those who have fallen victim to these publishing predators to know they're not alone.
Since March is a huge sports month, we've tied that into the theme, with our great referee-type dude throwing the penalty flag at those bad eggs, and we've registered the hashtag #PublishingFoul.
Lynne will be kicking off the month (get it – another sports pun!) on Thursday and will give you all an idea of the great features she has in store for you. Meanwhile, if you have a story you'd like to share, please drop us a line through the contact form. We want to spread the word so that these types of things won't happen to anyone else.