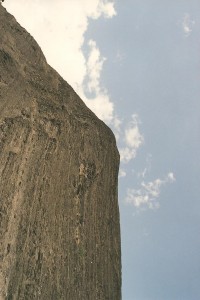 Whatever your writing and pre-publication process is, you've done it: your book is edited, proofread, formatted, and you have a cover that you love. You've hit the publish button. You're probably not thinking that the next 30 days may make or break your book's success. But that just might be the case. So, now what?
For most of us, the first steps go something like this: send an email out to your newsletter subscribers. Those should be your most ardent fans and supporters. They will give your book a nice little boost right out of the gate. Up next, social media: Facebook, Twitter, Pinterest, Tumblr, LinkedIn, Instagram, and wherever else you want. The big question that most authors face is, what then?
Have you heard the phrase "30 day cliff?" It refers to the notion that your book has 30 days of boost in the Amazon algorithms, before it "falls off the cliff." I've been studying book sales pretty closely for the last three years, and I am convinced that it's a real thing. After that, the sledding gets tougher.
So… What is a writer to do to get the word out? There are, of course, options: press releases, banging on the doors of media outlets, writing guest blog posts, sending review copies to influential bloggers hoping for a review, etc. For my first book, I did all those things, mostly to no discernible result. On my most recent release, I wanted to try something else. I wanted to see if I shook the Amazon tree hard enough, if I could make some of their legendary algorithm love fall on my head. When that happens, your book just takes off – with very little additional activity on your part. It's what I strive for with each new release.
One possible avenue would be to lower your price and buy a bunch of ads, but it's not that easy. Almost all ad sites have certain minimum standards you have to meet with regard to the number of reviews and star rating average. (There are a few sites, such as Kindle Books & Tips and Kboards, that have special opportunities for new books with no or very few reviews.) Sites also like to book in advance, anywhere from a few days to a few weeks. So, to fit into that mythical 30 day window, I had to publish, garner enough reviews to qualify, and then schedule the promos very quickly.
I know that many authors like to keep their sales numbers under their hat. I am more of the JA Konrath school of thought; I like to share actual numbers because saying a promo "went well," or "failed miserably," can mean such different things to writers at different phases of their careers. So, the following are actual numbers from the last few weeks. For this promotion, I priced the book at .99.
I had ARC readers standing by, ready to write an honest review. So, when I published this book, Second Chance Love, on February 4th, I picked up half a dozen reviews in the first few days. That same day, I pushed an email out to my New Release Alert List, (approximately a thousand people) and that resulted in 80 sales the first day, 50 the second, and 40 the third. Not a bad start. That got the book on Amazon's Hot New Release List. It wasn't enough, though. After my initial newsletter/social media push, sales dropped off quickly, moving between only 5 and 15 copies over the next five days. Definitely not enough to push the algorithms.
During that fallow period, I applied to websites to promote the book. It was a little iffy those first few days, as I only had six reviews, but that number was climbing. I also made mention when I applied that I had a good track record of reviews on my other books – My first two books have almost a thousand reviews on Amazon, with a 4.5 star average. If you have a track record, it doesn't hurt to mention it.
The first ads hit on February 12th, barely a week after launch. Choosy Bookworm and ManyBooks featured the title and that moved 64 units that day. Over the next ten days, I hit every site that I could think of that would feature the book: The Fussy Librarian, BKnights (who promotes on Twitter), eBookHounds, Ereader News Today, Read Cheaply, Genre Pulse, Kindle Books & Tips, People Reads, Books Butterfly, My Romance eReads, and Awesome Gang and their affiliated sites. I applied to a few others that didn't accept me for one reason or another.
And you know what? It worked. Between February 12th and the 22nd, Second Chance Love sold an additional 1,200 copies and was "borrowed" (it is part of Amazon's Select program) almost 300 times. It spent most of those days in the Top 1,000 and made it into the Top 250 at one point. All the ads performed well, although the day that I combined Genre Pulse with eReader News Today was the best: over 450 sales on that day alone. The book made it to the Amazon "Movers & Shakers" list which is rumored to really get attention for books.
In the end, the book generated more than three times the cost of the ads, which turned out to be around $240 for the whole campaign. The big question is, did it boost the Amazon algorithms so that it will continue to sell, now that the ads have stopped? Still too early to tell. But I promise that whether it did or not, I will report back next month and let you know how it did.
I had enough success with this launch that I will be refining my tactics, and will use this basic template going forward… until something else changes, and it doesn't work any more, which is inevitable.