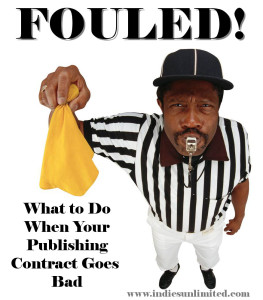 As Kat announced Monday, IU is devoting the month of March to authors who have been scammed by scummy publishers, and what to do if you've been caught by one.
This whole thing started with an email to the IU admins from an author who was just beginning to realize that she'd been had. While the minions sat around the gruel cauldron and kicked around her options, we realized that we had a hole in our coverage. So many of us had horror stories of our own – and we were sure that we were only the tip of the iceberg.
We were right. The current CEO of Author Solutions, Andrew Phillips, told the Alliance of Independent Authors last year that it has published works by 180,000 authors over the past few years. (It's telling that those 180,000 authors published just 225,000 books with Author Solutions imprints – or just over one book each. You've gotta ask yourself why they get so little repeat business.) And that's just one vanity scammer. That doesn't take into account those who signed with America Star Books (which used to be called PublishAmerica) or other pay-to-publish outfits. And it also doesn't cover authors who signed a contract with an inexperienced small publisher.
My own story falls into the last camp. In 2002, I agreed to co-author a nonfiction book about simple living. My collaborator had already lined up a publisher, and even though the publisher had only put out one other book prior to ours (his mother's memoir), I figured it would be okay. I even had a lawyer vet the contract. But after months of doing interviews and writing and editing the chapters, it became painfully clear that our publisher expected us to do all the marketing by word of mouth (as in Malcolm Gladwell's book The Tipping Point). When I proposed a more traditional marketing push, all I got was crickets chirping. Not only did I not make any money, I never even recouped my costs.
I don't believe our publisher meant to scam us; I'm sure he didn't make any money from the book, either. But even today, I feel uncomfortable talking about the experience in public. There's a stigma associated with being taken in, even when the scammers are pros. The victims expect others will judge them and call them out for "being stupid." Melody Stiles, a licensed clinical social worker in Indianapolis, told me, "Shame is a very difficult thing to deal with internally, let alone publicly. Most people who have 'gotten over' the shame connected with a past incident will sometimes admit it if they are angered by seeing someone else get taken in a similar situation or if others are 'coming out' telling their stories."
So this month, we're coming out.
A number of minions and others have bravely come forward to tell their stories, and you'll be reading them in the weeks ahead. Later today, indie author David Gaughran will be along to talk about how to avoid predator publishers in the first place. In the weeks to come, I'll be sharing information from Victoria Strauss of Writer Beware on getting out of a bad contract. And for those who are already angry, I've talked to some lawyers about the process of taking a publisher to court.
Here's what we're hoping you will get out of this month's posts:
1. If you've fallen prey to a vanity press or some other sort of shady "publisher," you aren't alone. You are one of a vast tribe of smart people who fell for something that sounded like a great deal. That's nothing to be ashamed of. All you did was make a mistake.
2. If you're presently stuck with one of these contracts, you're not completely helpless. Do you want your publisher to do what they said they'd do? Do you want your book back? Do you want your money back? We'll help you sort through your options.
3. There is life after a vanity press contract. We're going to hear from a host of people this month who fell for one of these outfits, and then went indie. You can, too.
4. Help us spread the word! Vanity presses have slick websites that feature reassuring words and soft-focus photos. They have tons of cash for online ads and preferential placement in search results. All we have is word of mouth. But we have a lot of mouths, and we're pretty darned loud. Please share our posts far and wide with the hashtag #PublishingFoul. Tell us if you have a story below, or use our contact form if you want your story heard. And if you run into somebody who's thinking of signing a contract with a dodgy publisher, please point him or her to our legal resource page, which we'll be building throughout the month.
Americans are probably familiar with "March Madness," which usually refers to the NCAA basketball tournament. We're adopting the phrase because we're mad as hell at scammy publishers, and we're not gonna take it anymore. Please check back throughout the month, and help us throw the yellow flag on these guys.