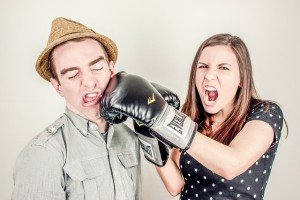 The first symptom of a poorly written fight scene is: too much violence. Characters flail away at each other in a multitude of fancy ways, the body count rises, the gore gushes, and it all blends together in an emotion-numbing jumble until readers are tempted to skip to the end to find out who wins so we can get back to the story. The writer who doesn't know what he really wants from the fight covers it up with technical details and mayhem. Watch a Transformer movie if you don't know what I mean.
And love scenes? Same thing. Lots of graphic description of body parts in motion, but strangely unsatisfying. Watch "Fifty Shades of Vanilla" as one reviewer called it. Love and fight scenes cover two primary human activities: taking life and creating it. Let's see how to make the best of connecting to the basic (note I didn't say 'baser') instincts of our readers.
What Does the Reader Want?
What many writers aren't picking up on is that the major content of any fight is emotion. Think about real life. A fight happens only after everything else has failed, and the emotions of the participants reach the point where they boil over. Writers who don't know how to control the suspense in their stories think the secret to a good fight scene is the moves made by the fighters. It isn't. The secret is in the emotions: empathy, fear, suspense.
Think of a fight scene as a short story in itself. All the usual writing techniques apply: an empathetic protagonist, a hated antagonist, objectives that clash, and, above all, a carefully orchestrated back-and-forth of power to increase the suspense.
Foreplay
Romance writers are far ahead on this one. Don't just jump into the fight. It's an old acting precept that it's sadder watching someone trying not to cry. Same with fights. If your character doesn't want to get into the fight in the first place, you can create a lot of tension through the suspense that happens before the first blow is struck. The first conflict is "Will there be a fight?" With love scenes, you really need at least a little sexual tension between the characters. If it's a foregone conclusion that they're going to hop into bed, you're missing out on the chance for a lot of suspense.
Personal Space
How close does he get? The first act of violence is always intrusion into the victim's bubble of safety. This sets up the characters' intentions and starts the suspense. What does the villain intend, and how does the hero react to that?
He stuck his face forward, and she could smell his breath, rank with garlic and cheap wine. She stumbled back, her hand groping behind her for support. He straightened and moved towards her, laughing.
And I suppose that could be the start of a love scene as well.
Think of all the subtle ways of threatening someone: walking around behind him, making a sudden move to startle him. That horror-movie standby: just being where you're not expected to be. One of the most effective ways of intimidation I have ever seen was in an improv scene by an actor who was a former biker. He talked in a calm, cool voice, but all the while he was "grooming" his victim: picking lint from his shirt, straightening his tie, dusting his shoulders off. Every move he made said, "I am completely in control of your body." Frightening.
In the next installment, we'll go into the technical versus emotional details of "the fight".