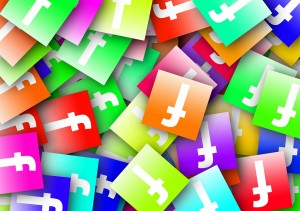 When I wrote about Facebook verification for your author page last week, I noted that one of the perks available to verified page owners is a special smartphone app. The app is called Facebook Mentions, and it's aimed at busy celebrities (ahem…) who want an easy way to keep in touch with their fans while on the go. The app is only available to those of you who have a verified page. It's a two-step process — Facebook sends you the link to the app once your page has been verified.
Once the app's installed, its controls appear at the bottom of the screen.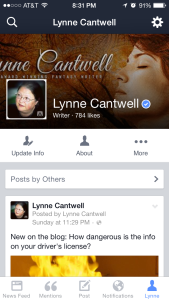 Click on the one with your name (far right), and it shows you your page. From there, you can update your information and see what you and others have already posted to your page. Clicking "More" gives you the option of changing your profile picture or checking out which famous people are following your page. (Facebook informed me that I don't have any "notable fans," which depressed me so much that I didn't bother getting a screenshot.)
If you click Settings – the gear at the top right of the screen – you can set up your page to share posts to Twitter and Instagram.
The menu at the bottom of the screen has some other choices. Clicking on News Feed gets you a list of the most recent posts by pages you're following. Remember how we used to discourage everyone from using their own page to like other pages? Yeah, well, we're in a different stratosphere now. Posts on pages you like from the Mentions app will show up on the Following tab of the News Feed.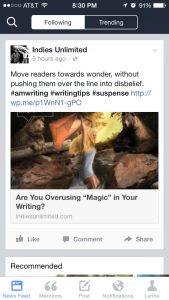 Click on the Trending tab, and you'll see news stories that are trending on Facebook right now. I would assume that posts about trending stories are more likely to show up in users' news feeds.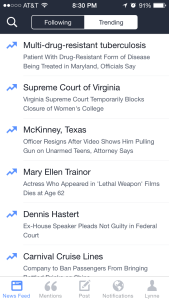 The Mentions button takes you to a list of posts that fit your own search parameters, including posts about you. (Again, my list was distressingly short, as in zero. So I didn't get a screenshot.) The Notifications button tells you when someone has either commented on one of your posts or sent you a message.
Right in the middle is the Post button. It does what you'd expect it to do – it lets you post a status update – but it also has another nifty feature. See the double-comment icon?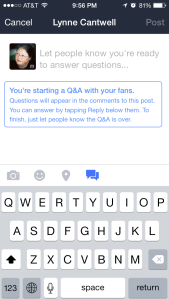 If you click that, you can start a Q&A with your fans, right on your page. Of course, like with any Q&A, you might want to warn people ahead of time that you're doing it, maybe even by sending a newsletter to your mailing list or posting on other social media platforms.
Reportedly, thousands of celebrities are using the Mentions app – including people like Oprah Winfrey, Tom Brady, Samuel L. Jackson, and Ellen DeGeneres (none of whom, apparently, had any concerns about giving Facebook proof of their identity to get a verified page – okay, I'll stop). I haven't used it as much as I probably should – I need to follow more pages, for one thing – but I'm intrigued by the Q&A thing. Anybody got a question they'd like to ask me?
The nice thing about the Mentions app is that I can see at a glance how much action my page is getting. With the regular Facebook app, activity on my page is lumped in with notices about my personal and group posts. But Mentions is all about my page. To be honest, I don't think the special Mentions app ought to be the impetus for getting a verified page. The big thing for me is the increased page views. The app is sort of a nice bonus — almost like a status thing. When you post from the Mentions app, Facebook notes that in the fine print on the post. So if you follow celebrities (which I don't normally) you can see when they're posting from the app. So hey, I've got the app too — I'm a big enough deal to use Facebook the way Whoopi Goldberg does! If you care about that sort of thing…
(By the way, I learned how to take a screenshot on my iPhone while writing this post. You have to click two buttons at once – the one at the very bottom of your phone, and the on-off switch at the top.)