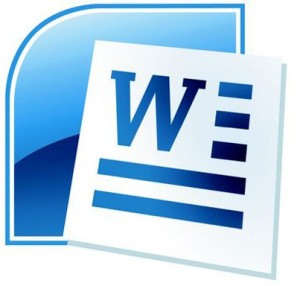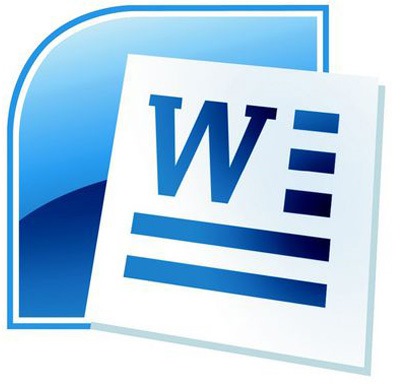 Has this ever happened to you? You're about a hundred pages deep into editing your manuscript, changing a phrase here and adding a scene there – and then you run across a paragraph that you're sure you deleted in the last go-round. And then you realize why it's still there: you're not working in the most recent version of your file.
You might think your options are limited at this point to: a) pulling up the correct file, setting it side-by-side with the file you're presently working in, and spending a couple of hours manually transferring all of today's edits into the right file; b) chucking the computer out of the nearest window, or c) sobbing. But you have another, much more appealing option: you can use Microsoft Word's Compare function.
Lawyers do this all the time. A legal document might be massaged by many hands – some in-house, some at the client's office – and often all at once. Ultimately, all of those changes must be entered into a single document, with some sort of indication of who added/deleted what and when. Law firms often spend money on a separate document comparison program that includes additional bells and whistles. But as indie authors,Word's built-in function is sufficient for our needs.
I had occasion to try it out recently. I've been traveling quite a bit over the past couple of months, and have been saving files on my computer at home and in the cloud. I must have been in a hurry the day I sent the book out for editing – or else the hotel's wi-fi was acting up – because I emailed the most recent version to my editors and myself, and somehow neglected to back it up to the cloud. So when I got the edits back and opened what I thought was the most recent file…well, you can guess the rest.
The Compare function has been available at least as far back as Word 97. In Word 2010 and later, you can find it by clicking the Review tab and looking for the Compare button in the Compare section of the ribbon. Here's what the button looks like.

It's very easy to use. First, you will need to make a note of the file names for both your original file and the one you've been making changes in, and save them both to someplace on your computer where you'll be able to find them easily – say, your desktop.
Now close both of those documents and, in a new, blank document, click the Compare button. A dialog box will pop up.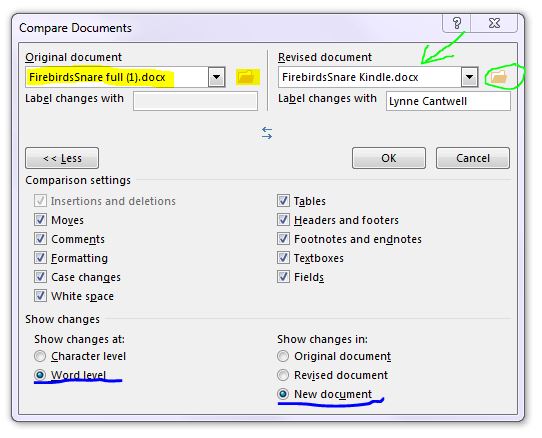 On the left, there's a box labeled Original Document, which I've highlighted in yellow; click either the drop-down arrow or the "open file" button next to the drop-down arrow to find and select your original document. On the right, circled here in green, is a similar setup labeled Revised Document; use the same process to find and select the file you've been working on. If you want to get fancy, you can click the "More" button and pick which types of changes you want Word to look for – but you don't have to. I've clicked it here so that you can see what it looks like. Leave the radio buttons set to show changes at the word level and in a new document. (I've underlined those in blue.) Then click OK.
Word will do its thing for a few moments. Then it will open a new document for you with all the changes highlighted.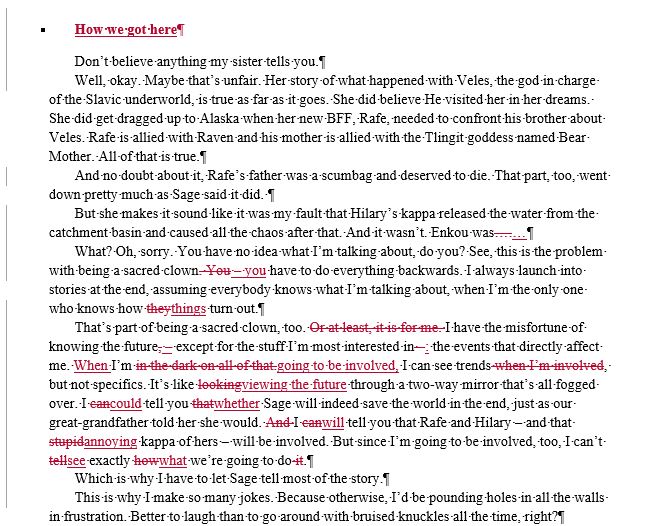 Additions will be underlined, or sometimes double underlined; deletions will be struck through in red.
You still need to go through the document and accept or reject each change. That works the same way as reconciling changes indicated by Track Changes; if you've never used it before, Laurie Boris has the info on how it works here.
Once you've done that, save your new document with a name that indicates it's definitely the most recent version, so you don't have to go through this again!