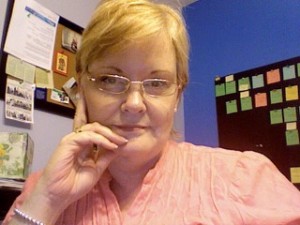 Guest Post
by Candace Williams
In our last installment, we went through the steps needed to prepare for making a book trailer with iMovie. Now for the fun part – actually making your very own fabulous book trailer!
.
 3. Make Your Book Trailer
If you followed the steps in the first installment, all your pictures and music should be available (top) for you to click and drag to the timeline (below).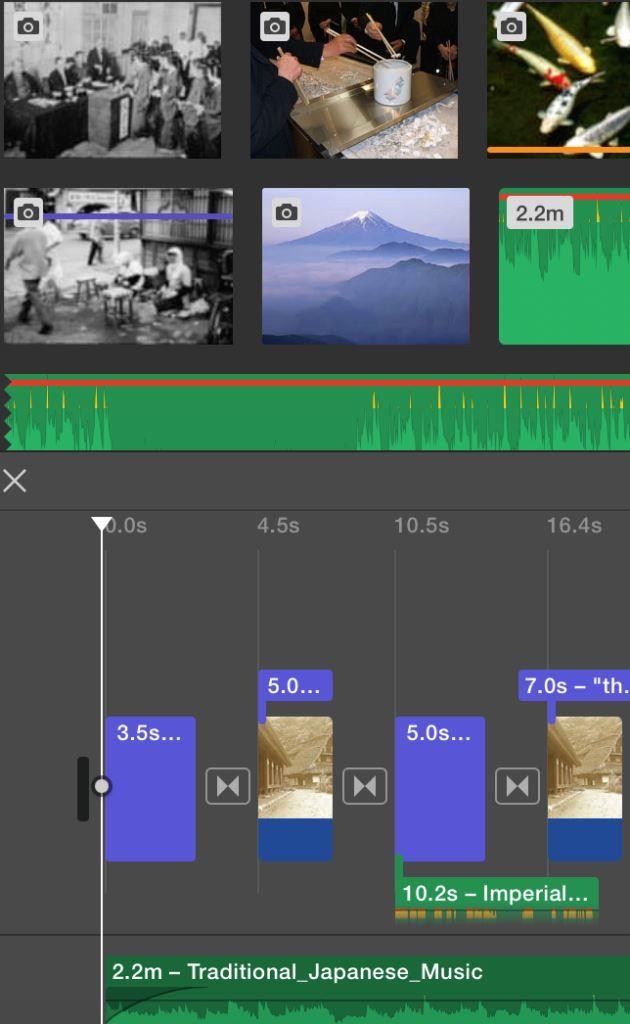 Notice that audio content is shown as a green strip in the top part of the screen (along with your pictures.) When you add audio to your trailer, it will appear underneath the pictures you've selected. I also selected a snippet from the Japanese Emperor's speech and simply did a click-and-drag to the timeline. You can see it's located between the music and the pictures (it's labeled "Imperial…") Because I wanted the speech to be heard over the music, I increased the volume by grabbing the very thin horizontal black line, located in the middle of the snippet, and moving it up.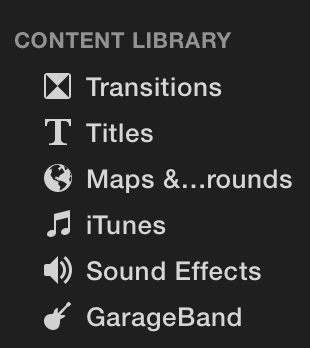 Your timeline is where you'll add photos, music, and titles, transitions, backgrounds, sound effects, and/or voice-overs to create your trailer. Spend some time thinking about the order in which your pictures will appear. Click on the menu items on the left of your screen and decide which titles and transitions you'd like to use. Do you want any sound effects? Take a look at the options in maps and backgrounds – anything you'd like to use there?
Once you have a script, start clicking and dragging your pictures to the timeline, or just select (click on) a picture and click on the + that appears.
Tip: If you dragged a picture to the timeline and then decide you don't want to use it there, just click on it (while in the timeline) and hit the Delete key on your keyboard. The picture will disappear from the timeline, but not from the media files you previously uploaded.
Titles can be used as a stand-alone item on your timeline. (Below)
Or you can overlay a title by dragging and dropping it directly on a picture in the timeline. That allows you to add text to the picture.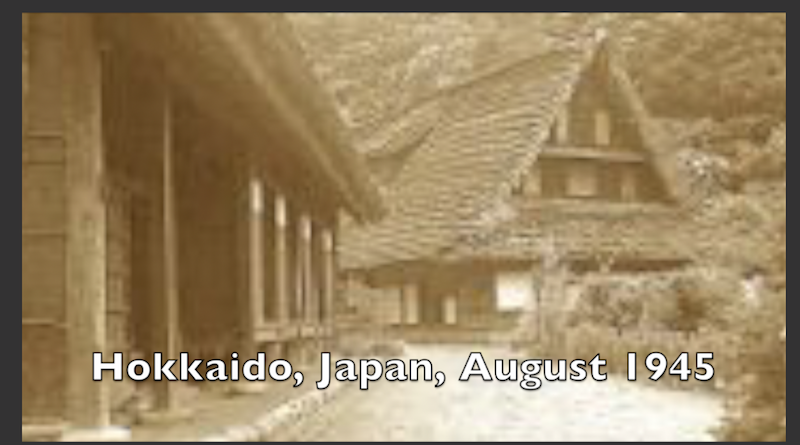 Don't like the way the title looks? Click another title and drag and drop it over the old title.
Tip: To change the text of a title, click on the narrow purple strip above the picture in the timeline.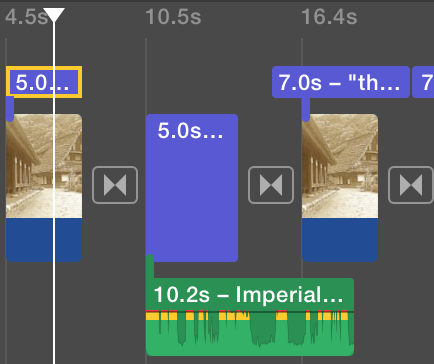 To add a transition between pictures, click and drag the one you want and place it between the two pictures where you'd like the transition to appear. It looks like two arrows pointing to each other, a/k/a a bowtie, above.
Tip: if you want to use another transition instead, simply click and drag the new one and drop it over the old one.
The default duration for each picture is four seconds. To shorten or lengthen the time, click on the icon that looks like a little "i" within a circle, located in a row of other icons above the picture you've selected. A window will appear in the upper right where you can increase or decrease the duration. (Hit Enter on your keyboard to close the window.) Incidentally, the other icons in that row will allow you to adjust the photo colors and balance, add audio or video special effects, etc. Just click on Help in the bar at the top of your screen to learn how to use them.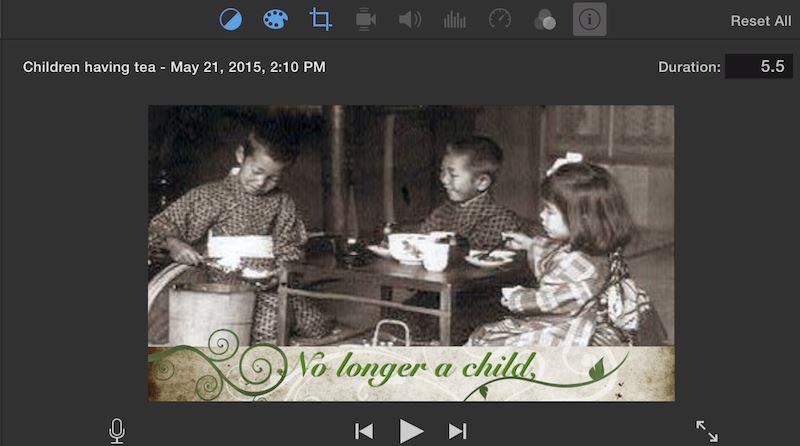 The default effect for all pictures that you add to the timeline is called Ken Burns. It's a special in/out zoom effect created by the famous director. You'll probably want to use different effects here and there to avoid monotony. To do this, select the picture from the timeline (by clicking on it) and then click on the crop icon.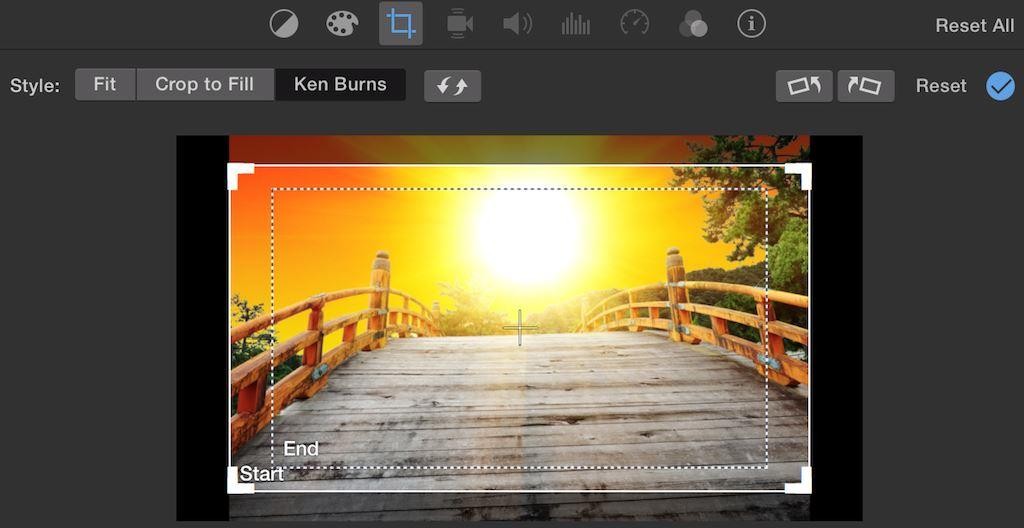 You'll be able to choose either fit, which creates a still picture, or fit to fill, which fills the screen. If you want to keep the Ken Burns, but wish to change the start and end points for the zoom effect, select the start and end frames (inside the dotted lines) and move them where you want. You'll have to play with it to see how it works.
IMPORTANT: See the little blue circle with the checkmark in it, labeled Reset? I don't know why it's called that, but you have to click it to SAVE the changes you just made, whether you're cropping, adding text to a title, or just about anything else. Always look to see if the Reset circle appears, and if it does, click to save whatever you just did. There is NO "save" button when using iMovie, so when you leave iMovie, you'll just need to trust that your masterpiece will still be there.
4. SHARE ON YOUTUBE
Or heck, there's even an option to share it to CNN. Dream big! When you've finished your trailer, click and save it to a File (the film-strip icon) just to keep it safe. Then you can click the Share button located above the icons for cropping, color adjustments, etc. If you have a YouTube account, click on the YouTube icon and start uploading. I didn't have an account so I had to create one first.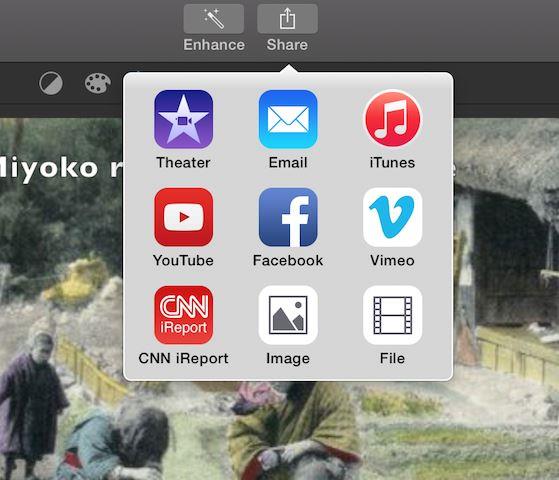 For Further Help
Stuck? Click the Help button on the bar across the top of your screen to see if there's anything there related to your issue. You could also use Google search – there are tons of how-to videos out there on specific issues. As a Mac owner, of course, you can go online to Apple Support for help via email, chat, or by booking a time for them to call you at your convenience. Alternatively, if you live near an Apple store, you can go online and set up an in-store one-on-one session (half-hour or one hour), a quick visit with someone at the Genius Bar, or sign up for an in-store workshop on iMovie. You'll be with three other customers, all working on their projects, with a Genius on hand to answer questions. (I'm going to do that!)
Here's the trailer I made for THE EARTHQUAKE DOLL. What do you think?
Best of luck making your own iMovie trailer. I hope it will be a fun adventure! It certainly was for me.
---
Candace Williams lives with her husband and beloved rescued Iggys (Italian Greyhounds) in Texas. Her first novel, THE EARTHQUAKE DOLL, was inspired by her early experiences in post-war Japan while her father was serving in the Korean Conflict. Learn more about Candace on her website and her Author Central page.