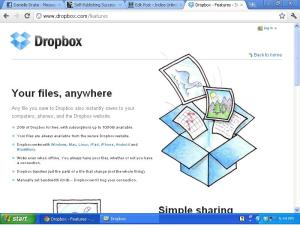 Have you ever lost all the work you'd done because you didn't back up?  I think it's happened to all of us.  It's happened to me. After a power surge in my 100-year-old home, I ended up paying a computer forensics company $1500 to get my data back. That was a long time ago.  And believe me, I learned my lesson.
Last Friday, our Rich Meyer wrote a post about the different ways he backs up his information. Everyone needs to do what's most convenient for them, otherwise – you know how it goes – we just won't do it, will we? Personally, I back up to CDs and to an external hard drive. Neither of those are greatly convenient, but I do them anyway. There is something better, however.
Dropbox. It's free, and it's drag and drop. It's a super handy tool that I couldn't live without at this point. Initially, you get 2 gigabytes of storage space free with your account. That's a lot of space if you're using it for documents.
You can write a document on your computer and then just copy it into Dropbox when you're done. Or, you can write the document in Dropbox and leave it there. Since I'm so paranoid, I keep a back-up on Dropbox and just drop a copy of my original in there each time I update it. You can do whatever works for you.
Need to share documents between computers?  Dropbox.  Need access to documents while you're on the road?  Dropbox.  Want to collaborate with other authors on the same document?  Dropbox.  I think you get the picture.
I use Dropbox for all of the above, and more. I'm collaborating with other authors on a project, and we just share a folder and can go in and out as we please. It's incredibly handy!
If you're not at your computer, you can log in to your online Dropbox account from ANY computer and edit, update, print, etc.
I used it traveling cross-country. I'd update my documents on Dropbox from my laptop whenever was convenient, then as I traveled, if I needed to print something, I'd stop at a library, access the documents I needed, and for about 25 cents, I'd print them out. It was perfect.
Other ways I use Dropbox:  I put a manuscript in a folder and share that with my editor; I share images and text with my cover art person; I upload music for a book video trailer and share that with Busy B's Videography…and so on.
There is even a folder that is "public" on Dropbox – and you can use that if you want to share a document with someone who does not have a Dropbox account. They can download it, but they cannot contribute.  That comes in handy when you have large files – like picture books – but my BETA readers and reviewers can download them without having to sign up for an account. All I have to do is give them the link to the file in the Public folder.
I would never endorse a product if I didn't use it.  I've never had a problem with Dropbox…and I highly recommend it.  For more information, you can watch their video at http://www.dropbox.com/.