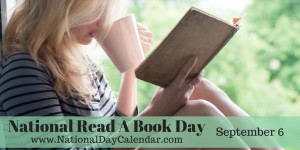 No one seems to know who came up with the idea for National Read a Book Day. Perhaps it was a teacher or a librarian. With September 6th chosen for the date, the idea was probably designed to instill the love of reading in children starting a new school year. Whatever that good soul intended when s/he set this day on our national calendar, the day has become a time for everyone, of every age or reading habit, to celebrate the joy of reading books.
When is the last time you read a book for pleasure? If you have a hard time even remembering, then you're most likely a student who has to read textbooks and assigned materials. Or maybe you're in a profession, such as law or medicine, that leaves you little time to read anything outside your chosen field. If you're a busy mom or dad, you're probably wondering if this is a trick question. When did I last read a book just for fun? Hah, good one!
If it's been a really long time since you've read a book, then here's a helpful chart: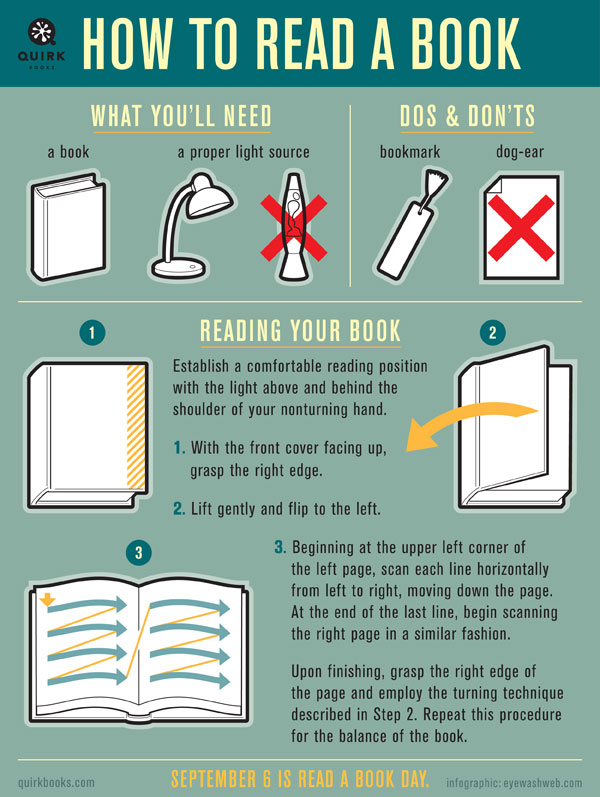 Just kidding!
If you're in one of the above situations, see if you can use this day to reconnect with reading for the joy of the written word. Think back to your childhood. Did you have someone who read to you when you were a child? Do you remember having one or two favorite books that you wanted to hear again and again (with all the words in the right order, thank you very much)?
What about later on, during the tween years when you could read books on your own? What kind of books did you most enjoy? Remember how you felt when you were engrossed in a good story, perhaps immersed in a make-believe world, and connected emotionally to the plight of your favorite character? Reconnect with those feelings today and see if there's a way to include this kind of reading in your life, if not daily, then perhaps weekly or monthly.
For habitual readers, you might think National Read a Book Day hardly pertains to you. If you've been an avid reader all your life, it's almost inconceivable that a day could pass without reading. You started out reading the backs of cereal boxes in early childhood. Later on, it was comic books with a flashlight under the covers. Today, you wouldn't think of leaving the house without a book or eReader as part of your daily accoutrement.
If the above description fits you, you may want to use this day to consider exploring something outside your preferred genre(s). Love historical fiction? Try something in sci-fi or paranormal fantasy. Who knows, you may discover a new favorite genre or writer. What if you exclusively prefer reading nonfiction in, say, history or archaeology? Then use today to venture over to the dark side for a dip into horror anthologies or graphic novels. C'mon, you know you want to. Bwahahahaha!
Everyone who wishes to celebrate National Read a Book Day can do so, and not just by the solitary reading of a book. Consider a few alternatives:
Listen to an audio book. What a great way to spend time while commuting, eating lunch at the office, or cleaning out the 'fridge. Besides, it's almost like being a kid again and having someone read stories to you.
Read to your kids. If they're too old for that, have them read to you. Some schools have programs that ask for volunteers to do just that.
Read books aloud with your significant other. My husband and I read the Harry Potter books this way, and improvised special voices for each character (all before the movies came out!)
Join or start a monthly book club. If you don't know of one nearby and don't want to start one just yet, then sign up with MeetUp to find one in your area. Chances are good you'll find a club that meets at a time convenient for you, whether at lunchtime, on a weekend, or a weekday evening.
When's the last time you visited a library? You might rediscover the joy of leisurely browsing the stacks. Check the circulars and notes on the bulletin board. Is an author you'd like to meet coming to town?
Think of the possibilities. On the next National Read a Book Day, you could look back on a year of regularly reconnecting with the joy of reading, discovering new joys of reading outside the (cereal) box, and perhaps sharing the joy of the written word with others, whether old friends or new.