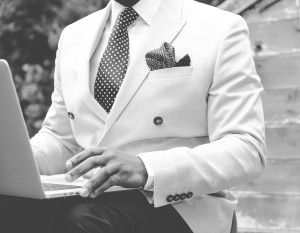 That's a loaded question, isn't it? Because first, we need to determine what makes a successful author, and that is an entirely personal question. More importantly, the answer is likely to evolve over time. It certainly did for me — it took me five-and-a-half years to write my first book, so on many levels, I felt successful just being able to type "The End" after 80,000 words. A few months later, that seminal author moment when I held a copy of my own book in my hands definitely felt like a success.
Comparative analysis is not a great way to judge success. As an indie, there's always someone who is doing worse and someone who is doing better. I have writer friends who had sales I used to dwarf who have zoomed past me now. Feeling smug when I was ahead of them or depressed now that I trail them isn't the path to creative equilibrium.
Which is all a way of saying that your definition of success needs to reflect where you are on your journey and what you want out of your writing. Is it just an outlet for your endless creativity? There's nothing wrong with that. A nice way to support your latte habit? Or, maybe, a potential income replacement for a job you've wearied of. I think a lot of writers don't put enough time into this question, instead writing like little hamsters on a wheel, churning out words without focusing on what they are trying to accomplish. Many writers seem to aim at nothing and hit it with unerring accuracy.
I want to be able to write full-time, but I'm not there yet. And that's okay, too. I'm on my way, and I have a plan to get there. Last month, I wrote about what I would do If I was starting my Indie career over. Those things — building a platform and street team, potentially writing shorter, and, mostly, staying nimble and reacting to inevitable change — are a good start. But, once that's in place, what comes next? I've been studying what successful authors do and I think these are the best steps if you want to have a sustainable income from writing:
First comes the story. I don't mean that first, you have to write a high-quality book. High-quality books languish all the time. I mean to give yourself the best chance of success, you should focus on a story that hits the tropes of a popular genre/subgenre while still managing to bring something new to the table. Characters and setting are important, but it's the story — danger, uncertainty, conflict, a need to know what happens next — that will keep readers turning the pages and wanting more. Those page-turners are more important than ever if you're considering being in Kindle Unlimited since Amazon has changed the way they are paying authors who participate.
Use a team to make it the best you possible can. This isn't a matter of effort. It's a matter of hiring professionals who can help you with this. Personally, I work with the same editor/proofreader/cover artist/formatter on each book because I hate reinventing the wheel. Sometimes you have to experiment until you find the right people, but the thought that you can be a brilliant writer, incisive editor, talented designer, and proof your own prose is highly unlikely. I never know which book or story will serve as my introduction to a new reader, so I want to make sure whichever one it is, it's the best I can make it.
Study the successful books in that genre/subgenre. I don't mean take a casual glance through the Top 100. I mean break down the elements of the covers of books that are selling. What primary colors are being used? Are there people or faces prevalent on the covers being advertised on Bookbub? How closely are the bestsellers hewing to the tropes of the genre? The only way to know is to read them, so that's what I recommend. It's worth studying what's working. Not to copy, but to help set parameters for what you want to write.
Write a series. Yes, I am aware that last month, I recommended not writing a series. That advice was intended for someone just starting. My thinking was that too many new writers immediately launch a series. If it doesn't catch on, you've wasted a lot of time and energy when you are most vulnerable – at the beginning of your career. However, once you've found what works for you, a series is invaluable. You can make the first in your series permafree and advertise that, knowing that a certain percentage of people who read the first one will read on and on through the rest. I've only just now stumbled into my first series, and it happened organically. I wrote a short story, it sold better than I ever thought it would, and people kept asking what happened next. That gave me a leg up, because I already knew the genre/subgenre (innocent romance) was popular and that these particular characters were clicking with readers.
Write more books, more often. Honestly, this is where I fall down. What I write sells, but I just don't write enough to get the real momentum and back-list I need. We all have leaks. That's mine. What's yours?