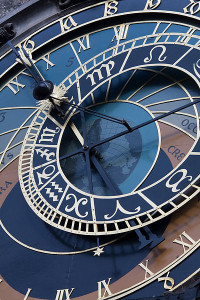 Every now and then, when I'm reading, I'll run across something that makes me go, "Huh?" I'm not talking about the sort of full-on assault perpetrated by authors who don't think spelling, punctuation, and grammar matter at all. I'm talking about the sort of thing that makes my head wobble a little bit as I frown and say, "Hmm. That doesn't sound right to me."
Take, for example, the use of yesterday, today, and tomorrow in fiction. Sometimes they just don't sit right with me. And it's always when the narrator of the piece – first person or third, doesn't matter – is telling about something that occurred in the past.
Let's say the story is about an assassin who is preparing for a major hit: "When it came to preparation, Vasily was nothing if not meticulous. He made sure his knives were whetted to a keen edge. He cleaned and oiled his semi-automatic weapon, and then cleaned it again for good measure. He made sure he had plenty of ammunition accessible at a moment's notice. The biggest hit of his career was tomorrow, and he wanted no mistakes."
Wait a minute. "Was tomorrow"? But tomorrow is the future by definition. Sure, from where Vasily is standing, tomorrow is the day after the day he's currently experiencing. But the narrator is standing in some future time in which Vasily's "tomorrow" is also in the past. Would it be better if the narrator phrased it differently? What if he (or she) used "the following day" instead?
Let me explain it another way. Say Gina is telling your friend Vanna about something that happened a couple of weeks ago.
Gina starts off by saying, "Oh my God, I forgot to tell you! You know the party at Chelsea's last Saturday night? Well, Noni and Lloyd showed up together."
"No way!" Vanna says.
"Yes way! We all thought they'd broken up yesterday!"
Vanna cocks her head and stares at Gina. "What do you mean, yesterday? I thought they broke up before the party."
"Oh, they did," Gina says. "I meant yesterday relative to the day the party happened."
"So…last Friday, then," Vanna says slowly. "The day before the party."
"Right! But then I heard they got back together tomorrow, and…"
Vanna is now looking at Gina as if she has a screw loose. "How could Noni and Lloyd get back together on a day that hasn't happened yet?"
"Not tomorrow tomorrow," Gina said impatiently. "The day after the party."
"Sunday," Vanna says.
"Of course! But at the party tonight…"
"I think you need to stop talking," Vanna says.
Are we confused yet? Vanna sure is. But now think back to Vasily's anonymous, third-person past-tense narrator. When he (or she) says, "The biggest hit of his career was tomorrow," he (or she) is doing the same thing Gina just did: Standing in his own present time and referring to an event in his past as tomorrow.
In dialogue, of course, it's not an issue. Your characters are speaking from the vantage point of their own present day, so they can throw around today, tomorrow, and next week with wild abandon.
It also wouldn't be a problem if your story were told in present tense. But for sections in third-person past-tense narration, you should probably replace terms like yesterday and tomorrow with less immediate terms like the day before and the day after. Vanna will thank you, and so will I.