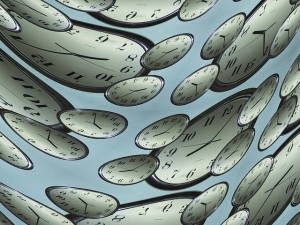 Earlier this week, Huffington Post published an article by Lorraine Devon Wilke addressed to "Self-Published Authors," asking them NOT to write four books per year. It was a long article, but the gist was: no one can write four good books per year. Not you, not I, no one.
Horse puckey. I thought the indie community had hashed this all out years ago, but here it is again: the old "If you're fast, you can't be good" chestnut, raising its hoary head once again in the form of a clickbait article on HuffPo. Just because I don't write four books per year doesn't mean I think it's impossible. I can't run 100 meters in under ten seconds, but Usain Bolt does it all the time.
Let's take Elle Casey, an author with whom I've had a nodding online acquaintance since her days on Kboards three years ago. I have found her profusely generous with her time when it comes to helping other authors, which is pretty amazing when you consider her output. Over the last three years, she has averaged approximately one book per month. Let's let that sink in. Not the paltry four books per year that the article warns us about, but one book every four weeks. When people hear about Elle, they usually have questions like these:
Yeah, but her books suck, right? Umm…no. On the contrary; I have read them, and they earned every review star I awarded them. I seem to have company, because her thousands and thousands of reviews on Amazon average out to around 4.5 stars. While quality is always a subjective judgment, Elle's considerable audience is telling her that she's hitting the sweet spot.
If she's putting out books that fast, she must have a team of ghostwriters, right? Nope. She writes every word herself. Oh, yeah, she's also earned over a million bucks with her writing in the last three years. She has made the NYT and USA Today Bestseller lists.
Elle isn't alone. Look how often Amanda M. Lee publishes. Then look at her reviews. Can anyone look at them and think that she is not pleasing and connecting with her audience?
Many other indie authors publish four, five, six, even ten well-written, well-edited, and well-received books each year. When you consider the economics, it isn't surprising. Because many of the fast writers are so successful, they have the resources to afford professional editors, proofreaders, formatters, and cover artists. I consider these authors the standard bearers of indie publishing, and it's a disservice to their hard work and high standards to dismiss their efforts with a sniff of disdain.
But, the HuffPo article maintains, none of these books are of a density, the quality of Donna Tartt's The Goldfinch, the traditionally published Pulitzer winner. Perhaps Wilke is mistaking her own tastes, and/or those of the literati, for quality. I liked Ms. Tartt's The Secret History, but The Goldfinch? I couldn't finish it. That doesn't inspire me to write an article begging her to stop taking ten years to write a novel. It means that, for me, The Goldfinch missed its mark. That's all.
The article advises authors not to publish four books per year, "unless they're four gorgeously written, painstakingly molded, amazingly rendered and undeniably memorable books." That's exactly the kind of over-the-top hyperbole that keeps people from ever publishing a single book. Do any of my books meet that standard? No, but I've got enough five-star reviews to inform me that I am connecting with and entertaining readers — even if they do not all merit the full gush of adverbial superlatives.
In my introductory post for IU, I said, "It drives me crazy when authors tell me, 'Here is how you have to do this.' Self publishing is such an individualized effort that I think there are very few universal truths. …it irritates me when someone tells me I have to do something. Instead, I prefer to say, '"Here's what's working (or not working) for me. Your mileage may vary.'"
I would encourage authors to set their own goals, each finding his or her own best pace. I don't think I can ever publish like Elle or Amanda does, if only because both think more quickly than I ever will. But until we try, how can we know our capabilities? Please don't let other people put limits on you, especially clickbait authors writing advice pieces full of lofty-sounding discouragement. You are a creative person, full of potential and amazing possibilities. I wish you much luck in finding what those possibilities are. In the interim, illigitimi non carborundum.