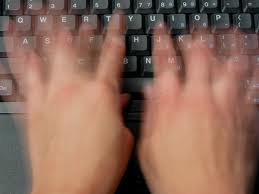 I came across some very handy keyboard shortcuts recently. Some IU followers may already know them, but for those who don't, you might like to try them out. These could be especially helpful to authors who do a lot of research online.
I have a very bad habit that inevitably results in me tut-tutting away and cursing my laptop. Or my broadband. I'm a taboholic. I have an addiction to having as many open internet tabs as possible. I just can't help it. Technically savvy husband is forever ticking me off and telling me to 'for goodness sake, close some of those tabs' when I'm muttering that my laptop isn't playing nicely with me.
But I NEED them all open. I really do. I need to look this up. I need to look that up. I need the dictionary open. I need the thesaurus open. It saves SO much time if the pages are open, ready and waiting.
I admit that, yes, I do have a tendency to have just a few too many tabs open. I'm sure most of you are far more moderate and only have a few essential ones open whilst you're writing/researching/editing.
But…there are a number of very handy Google Chrome shortcuts to speed up navigation around your tabs and Google Chrome itself. They are a click or two faster than moving your mouse/mouse pad around.
For instance:
You want to open a new tab: use Ctrl T. It's just that little bit quicker than navigating your cursor to the 'New Tab'.
If you want to close a tab (because you have way, way too many open…), rather than navigating your cursor to the little 'x' on the tab, much quicker is: Ctrl W.
Then, oh fiddlesticks. You've closed a tab you realised you still needed. Just quickly press Ctrl Shift T, and hey presto, it's back.
If you want to leap across your 24 tabs (ahem) quickly and efficiently, just press Ctrl Tab key.
One particular annoyance is when I click on a hyperlinked word/phrase and the link opens in the same tab, thereby losing my original page. I constantly have to remind myself to right-click and make sure I click 'open link in new window', so that I don't lose my original tab. But much quicker is: Shift then click on the hyperlink.
Also nice and handy is Ctrl L. That gets your cursor into your search bar without you having to roll your cursor up to it.
There are of course many pages we like to bookmark. Ctrl D does the job instantly.
Cutting out a few extra cursor moves and clicks all adds up to quite a lot of time saved, so it's worth trying to get used to these shortcuts. Start with a couple, then once you realise you're using them automatically, add a couple more to your repertoire.
In this article Sidekick lays out The 25 Most Useful Keyboard Shortcuts for Google Chrome which includes the Mac options next to each Windows command.
You can find those, and a bunch more, at Google Chrome's own keyboard shortcuts page.
You will of course, use Ctrl D/Command D to bookmark the page, won't you?