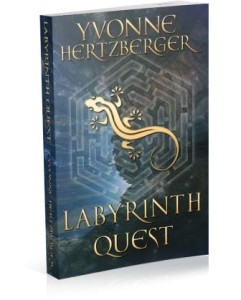 It never gets old, does it – writing "The End" (actually or otherwise) on that current manuscript? Most of us have mixed feelings about it: elation, sense of accomplishment, relief – and letdown, or sadness. I've learned that these ambiguous reactions are common among writers.
Just a couple of weeks ago, I did this for the fourth time. I finally finished the first draft of my new novel. I'm a slow writer. It takes me about two years to publish each book, and this one was over 18 months in the writing. While I know many authors are much more productive, I've heard that even those who put out many more books than I do face those same feelings.
Aside from not wishing to say goodbye to our characters, there are other triggers for the more negative emotions. We know there is much more to do before we press that "publish" button. In my case I have about three more months before I can take that final step.
I know we have had posts on Indies Unlimited about this before but, since everyone approaches this part of the book production process somewhat differently, I'd like to share mine. Perhaps it will trigger an "aha" for some of you, and add an element that you have not included or thought of.
Even before I send my manuscript off to my beta readers I go through it twice, making adjustments to the story, fixing inconsistencies and re-writing aspects that I think are weak or don't feel quite right. I'm a pantser and don't do much planning ahead of time. While that gives my characters the freedom to lead me around by the nose and allows the writing to flow more organically, it can also have me shaking my head at the trouble that can get me into. I also look for grammar, spelling and punctuation errors. I know I won't catch them all, nor is this the most important element at this stage.
That done, I send it off to my beta readers, along with a sheet of pertinent questions and things to look for as they read. I expressly tell them not to worry about the errors and focus on the story. I have six beta readers and have by now managed to make sure they are a diverse group who will come at the reading from different angles. Two are simply members of my target audience: readers who will pick up my kind of story for pleasure. One is a published author who writes in my genre, Magic Realism/Fantasy. One is my daughter, who aspires to become an editor and spots things casual readers miss. She can be tough – as daughters are prone to be – but she's good. One is a writer friend who writes in a different genre but whose skills I respect. The last is a member of my critique group whose input has been valuable all along. I know each one has something different and salient to offer me in answering the questions I have presented to them. They have three weeks to get their responses back to me.
The feedback tends to trickle in over time. It is so tempting to tackle each one as it comes in but I resist. I want to see all of them together to determine where there is agreement and overlap. I also think it is wise to take a breather from the story during this time, so that when I do review it again based on the beta feedback, I, too, will be looking at it with fresh eyes.
When all the responses are in, I analyze the comments and questions, looking for common threads. I know that some will have different reactions based on their standpoint, their experiences, and what they look for in a good read. The hard part at this point is to sort out what I feel is relevant and needs to be taken seriously and what is simply personal preference. Then comes another rewrite based on the decisions I have made. Some of this can be tough as this is my baby and I didn't see the wart on his nose or those flat feet. I thought he was perfect.
Okay, now the story is as good as it's going to be. But wait. I'm not finished. Now I go through it three more times looking for all those errors I asked no one to pay attention to. I try to find the spelling, grammar and punctuation errors I missed those other times.
When I am convinced that further searching will not help me find more errors, the book finally goes off to my editor. She makes three passes at it: first for flow, plot, inconsistencies, awkward sentences, etc. Then she does a line edit and lastly a final proof-read before she sends it back to me. Then it's my turn again, to look at all her suggestions and changes and decide if I accept her judgement or want to keep it as it was. She's good. I accept almost all of her suggestions. But occasionally something just doesn't feel right. In those rare instances I will often re-word a sentence to eliminate the problem in a way that suits both of us.
In the meantime, while all of this is going on, I am working with my cover designer, Rebecca at Dreams2media.com. I had to supply her with a summary, a title, the back cover blurb (oh, that dreaded blurb), and my author headshot. I am so lucky that I love what she has come up with. But before she can send the final version she needs a page count for the paper book.
That brings me to the second to last stage. It needs to be formatted. Most who know me are aware that I am a computer dummy. This is the scariest, most anxiety provoking part of the whole process. My solution is to chicken out and pay someone else I trust to do it. Again I am lucky to have someone who is both good and reasonable, Rich at quantumformatting.weebly.com. I need three different versions formatted: KDP (Kindle), Smashwords and CreateSpace (paper).
Once I have these I am finally ready to upload and publish. But even then, there is more to do than simply push that button. Each version has to be checked, page by page, for errors. And even after pushing that final "publish" button I have to wait to see if the other end is happy with what I've done, if it is correctly formatted and loaded. Some adjustments may still need to be made.
And after all that, I can truly say: "The End" and know it to be true.