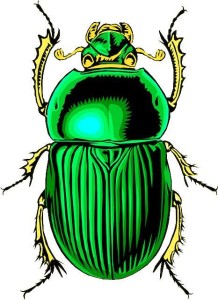 Synchronicity [sing-kruh-nis-i-tee] is a concept developed by psychiatrist Carl Jung, who felt that it was possible for seemingly unrelated events to come together in "meaningful coincidences." In his book by the same title, he told of a patient who seemed to reach an impasse and was making no further progress in treatment. During a session, she told him she'd had a dream about someone giving her a golden scarab, an expensive piece of jewelry. While she was talking, Jung heard a tapping on his window behind him, opened it and a large green-gold scarab beetle flew in. Jung caught it and handed it to the woman, saying, "Here is your scarab," and from that point on, she made great progress in her treatment.
The novel I've been working on concerns a young woman who inadvertently ends up being the primary caretaker of her elderly aunt who has Alzheimer's. After the death of the aunt, the woman uncovers family secrets that change her perception of most of what she thought she knew. I'm to the point in the book where I'm about ready to kill off the aunt. No, I won't murder her; she dies of natural causes, but I was struggling with whether or not the timing was right. I felt like I wanted to provide a bit more substance before the aunt's death, but I wasn't sure what that substance would be. My writing stalled.
Enter Netflix. I still do the old mail service (just have never taken the time to learn the ins and outs of streaming), so I got a movie in the mail. Now I've got over 100 movies on my list, most of them taking their time making their way up to the top as I continue to add new releases to the head of the line. Because of that, I'm never quite sure what movie is coming next.
The one I got is called Alive Inside. It's a documentary about a man who discovered that he could stir Alzheimer's patients from near comatose conditions to singing, dancing, and talking simply by creating personal playlists for them and providing them with iPods and headphones. A man named Henry who sat all day with his head down, eyes tightly closed, never speaking, burst into song with eyes wide open and a huge grin on his face. Other patients who sagged hopelessly in wheel chairs, eyes glazed over with boredom and resignation, sat up, smiled, began to move with the music, and cried. It was absolutely amazing the change that came over people, and it was instantaneous. There's a six-minute excerpt of the movie on YouTube showing Henry's transformation here.
You can guess where this is leading. I now have the substance I needed for the interim part of my book. No, I'm not going to have my main character make fabulous inroads with the aunt via music, but watching the movie gave me enough information and inspiration to fill in what I need.
We talk so much here about how to write and how to do it well, yet all the education and training and experience in the world can't hold a candle to synchronicity. Synchronicity is that wonderfully serendipitous act that brings two wildly disparate ideas together in a fiery collision that sparks our work in ways nothing else could. Synchronicity is undeserved good luck, it is God's grace, it is frickin' magic. It is the impetus that boosts our work from ho-hum to WOW!
Who would guess that a chance movie from Netflix would give me not only the idea I needed but the accompanying soulful emotion for the backdrop of that idea as well? Who would guess that the appearance of a beetle could provide the breakthrough for a woman's mental health and growth? The amazing thing about synchronicity is the timing. It provides for an object or an event which at any other time would be viewed as mundane, inane, unremarkable, and altogether forgettable, yet at that moment in time it becomes meaningful in a highly impactful way. And that, I believe, is what we all hope our writing will be infused with: meaning.
I know I'm not the only one who's ever experienced synchronicity in their writing. What about you? When have you had an idea pop out at you from something totally unrelated? When have you struggled with a story, only to have it served up to you with the soup for lunch? When has meaning come at you like a curveball from out of the blue? That's synchronicity in action. All we have to do is catch it and inject it into our writing.