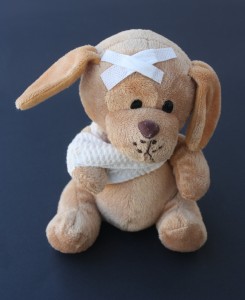 I have tendinitis in my wrists, which has made typing — shall we say — a tad difficult. No typing meant I couldn't even dream of meeting my word count goal of 1,500 words per day towards my latest novel.
After a week of Netflix bingeing, my husband was like, "You need to do some writing." To which I responded, "I can't." To which he replied, "Why don't you dictate it?" Well, that's when I decided to look into some ways to create that didn't involve me sitting at my computer typing.
Obviously, if the limbs you use for writing are injured — tendinitis, a broken arm, carpal tunnel — the best alternative is to learn to type with your feet. Kidding. The best alternative is probably to speak what you would have written. If you want to do that, there are two options: speaking into a recording device and having it transcribed or using speech-to-text software.
Let's look at the first option, since my husband loves it more than he loves me (he's been suggesting I dictate for years). If you want to dictate, you are going to need a recording device. Most smartphones and most computers have digital recorders on them. If you can't find one on your phone or computer, Google "free recording software" or "free recording app" and download one. The average person speaks between 110-150 words per minute. So, following that logic, you'll actually get more done recording than you would typing. The average typing speed is 40 words per minute, and fast is considered 80-100 words per minute, so that's still a lot fewer words than speaking.
Once you have finished your recording (or recordings, if you ended up stopping and starting), you can get it transcribed. I Googled "cheap transcription services" and got several hits. Services seemed to vary in price from $0.75 to $2.00 per recorded minute transcribed. Turnaround times were often fairly quick, such as 24 to 48 hours. If a person wanted to write their entire book this way, using the 150 words per minute number, it would take 400 recorded minutes to get a 60,000 word manuscript. If you went to a service that costs $1 per minute, that would run you $400 to get the novel transcribed, before you even edited it. If this seems like it costs too much, there are some pieces of software out there that say they can transcribe audio files. However, it's not clear how good they are, but it may be worth checking out if you think you'd like to go audio.
If you're concerned transcription costs might be too high, then you'll want to go for the other auditory option. Speech-to-text software allows you to speak into your computer's microphone and will turn that speech into text as you dictate it. There are several free online apps as well as software you can purchase. Generally, speech-to-text technology requires you to speak much slower than you normally would. It will take you much longer to dictate your novel using speech-to-text than it would take for you to dictate your novel into a recorder. Speech-to-text quality level varies depending on the service, but you'll probably have a decent amount of cleanup to do after it converts your speech to text.
To test out speech-to-text, I used free online software to write this article. The one I used was nice in that when you said words like "period" and "comma," it actually inserted that particular text into punctuation. The service I used did not translate quote or quotation marks to the punctuation mark, so I would find writing my novel that way frustrating unless I wanted to spend a ton of time adding in quote marks once I finished speaking (I imagine paid services are more useful in this arena).
Whether you use recording software or speech-to-text software, I will say that doing either may require a slight change in your mindset. You need to have it clear in your mind what you want to say when you begin, so that you can speak it clearly into the microphone. If you're a pantser, it won't work well when you try recording or speech-to-text. When I first started dictating the article, I ended up saying several useless things and deleting them before I realized I needed some bullet points so to get me started. You don't need a super-detailed structure when speaking your text, but you need something. I suggest getting a starting point and jotting a couple of key points you want to make sure you cover.
Using a speaking method means you've got to clean up whatever you get. Transcription services promise varying levels of accuracy, but their transcriptions are only as good as what the transcriptionist hears. So, you'll have to look over whatever is transcribed for accuracy. The same goes with speech-to-text. However, with speech-to-text, you know as you watch the stuff on the screen whether the computer got it right or not.
If you write fantasy and have a lot of unusual names, I imagine speech-to-text will be no fun. Freeware offered very little by way of understandability of names. Paid software may be better, but again, it will depend on the software. If you're using a transcription service, you can at the beginning of the recording say all the names you'll be using and provide the spellings, so the transcriptionist knows to use them throughout the document.
Here are some resources I found if you are interested in looking into this (just copy and paste the link):
Transcription Services
https://www.rev.com/transcription
http://verbalink.com/services/transcription-services
http://hourtrans.com/Cheap-Transcription-Services.php
http://www.cheaptranscriptionservices.net/
Free speech to text software
http://ctrlq.org/dictation/
http://download.cnet.com/Free-Voice-to-Text/3000-7239_4-76115951.html
https://talktyper.com/
Google Docs – Built in to Google Docs is a speech-to-text option. Go to the top menu and scroll across to ADD-ONS, then Select Get Add-on and find a Speech-to-text program (There are a couple of speech to text add-ons available, so search "Speech to Text and then pick the program you want)