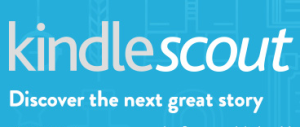 I needed to do something different. My book sales had stalled and I was searching for ways to connect with readers – new readers. So, at the beginning of September I submitted my latest, unpublished manuscript – The Dead List – to Amazon's Kindle Scout program.
Here's how it works:
You submit your edited (50,000 words plus) novel with cover, synopsis, and your bio.
The Scout team lets you know within a couple of days whether they accept your book.
Once accepted it's live on the Kindle Scout site for 30 days.
During that time it's up to you to generate page views and try to remain in the coveted "Hot and Trending" category.
Readers are asked to read a short preview and if they feel it's worthy of publication click on the "Nominate Me" button.
Once the 30 days has expired the Scout editors will take a few business days to let you know whether or not they'll publish you.
The submission checklist is here.
If published you receive a $1,500 advance, a 50% royalty rate, and a guarantee of earning at least $25,000 over the 5 year term of the contract. Plus you'll receive marketing support from Amazon. You can check out all the terms here.
And, (again, if Scout publishes you), readers who nominated your book receive a free advance e-book copy (with the hopes that they post a review) before it's available to the public.
If Scout declines to publish they still alert everyone who nominated your book that it's available once you release it yourself, and they link your Scout page to your Amazon product page.
Even if you generate a gazillion page views and stay in the "Hot and Trending" category for the entire thirty days of your campaign, there is still no guarantee of being offered a contract. The Scout team still has to decide whether they want to publish you. But, the more activity you generate, the more likely you are to attract interest from them.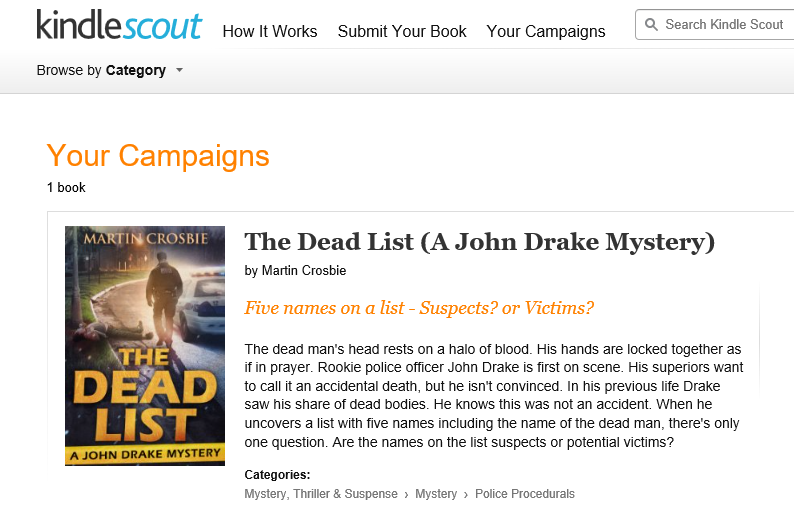 Here's how I ran my campaign for The Dead List:
On the first day I sent a mail out to all of my newsletter subscribers asking them to check out the preview on my Scout page and if they thought it merited publication, click on "Nominate Me".
I posted on Facebook six times during the campaign (posts not ads). Again, I didn't ask for nominations. I asked readers to check out the preview and if they felt the book was worthy of publication to please nominate it. I did not ask for blind "likes" or nominations.
I wrote a blog detailing the first eight days of my campaign and posted it on my author website.
A ton of my fellow authors, and readers of my previous books, helped repost, tweet, and in some cases even made phone calls to help spread the word. The support was phenomenal.
Halfway through my campaign there were two days where I felt as though it was fading. I was barely hanging on in the Hot and Trending category. I needed to find other ways to spread the word.
Here's what I did:
I'm a member of a Facebook group whose members have the same last name as I. So, I let "The Crosbie Clan" group know of my campaign. Those guys totally wanted to check out a Crosbie book.
I re-posted the blog I'd published on my author site to Twitter and LinkedIn.
I'd had some good fortune with folks in a Facebook gamers group with a promotion I ran a few years ago. Some of the members had fallen in love with one of my books and were very assertive in suggesting to other members that they should check out my work. I touched base with the moderator of the group and she ran with it. Again, she asked folks to check out the preview and decide whether or not to endorse my campaign.
I included the link to my Scout page on some of my existing book's product pages via Author Central. I placed the link quite high on the page for maximum visibility.
And, I let Scout find traffic too. My book was listed under its category – Mystery and Suspense. This gives random readers who are browsing a way to find you.
Scout lists where your traffic is coming from so it was easy to track what was working. So, at two weeks in I felt like I'd hit my groove. The initial excitement had subsided and I was feeling okay. My campaign stats from the previous day were live every morning at 7 am PST, and I actually managed to hold off until mid-morning some days before checking them. The Hot and Trending category reboots once an hour at about twenty minutes past, and some hours I didn't even check to see if I was still hanging in there.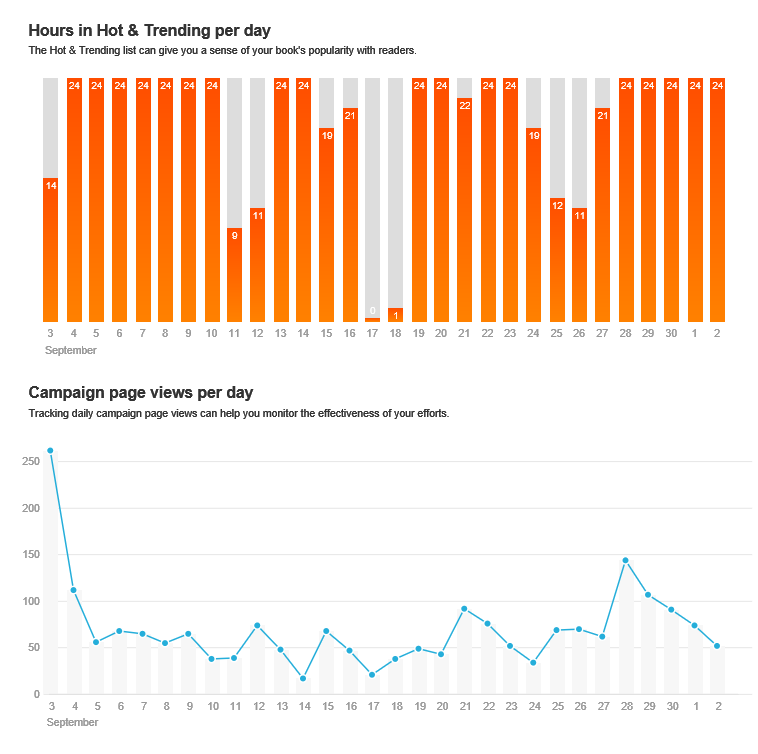 I was just grooving along when I received an email and then a phone call. An agent from a very large literary agency wanted to speak to me about The Dead List. So, we spoke on the phone. It was a very interesting conversation.
Mr. Agent, who also happened to be the son of the large agency's chairman, was a very nice man. After seeing an article on Kindle Scout in Publisher's Weekly, he scoped out my book (and probably others too), and wondered whether I might be interested in having him handle negotiations with Amazon if they accepted me. I read over the list of authors his company handled and then sat back down in my chair. It was very cool to attract that kind of attention but the Scout contracts are straightforward and I decided if they picked me, I'd do what I've done since I started publishing in 2011 – I'd trust Amazon. The agent did not seem to have any other interest in my work other than the Amazon negotiation.
More happened, much more, but that will have to be in Part Two. Please check back on Thursday (two days from now), and I'll tell you the rest of my Kindle Scout adventure. You're going to want to come back, believe me, because it really has been an adventure.
[You can read Part 2 of Martin's Kindle Scout adventure here.]