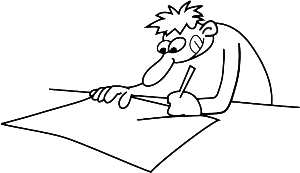 This is an ongoing series about BigAl's first experience writing a book. Join him as he flies by the seat of his pants and figures things out as he goes. For a more complete explanation about the book and this series of posts, you can read the series introduction here.
It's the end of September and this will be running sometime the first part of October. In this post that ran September 9th, I established what I had done in 2014: both an outline and a start on writing several sections. I've since added about 10,000 words. I can spin that into a good story or a bad one.

The bad will be obvious if I confess that the post that was run on September 9 was written on June 1.  Even I have to admit that if I cut myself some slack for the fact that writing this book has to play second (or fifth) fiddle in demands on my time behind my day jobs, the websites I run, and family, an average of 2,500 words a month still sucks.
The positive is that knowing I had to write the next post in the series before the end of September was the pressure I needed to find the time to write. One of the personal reasons I had for doing this series was just that: knowing that if I didn't continue to make progress the millions … okay hundreds, or at least high tens of you reading this would know and someone (yes, I'm looking at you Linda M) would give me grief. It worked. Despite making no progress for three months, September saw some movement. That's when all of these words were written. I'm happy with that. I don't want to get done too fast or I'll have to find other subjects for my IU posts, so creeping along is okay with me, as long as I'm progressing..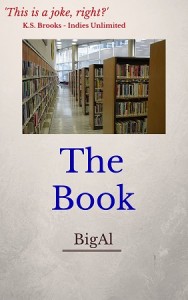 What I Learned
One of the standard interview questions asked of authors at The IndieView is "Do you have a writing process?" along with a request to describe it. There are multiple ways to interpret the question, so the kinds of answers vary. I think how an author interprets it tells readers something about the author, maybe even more than the actual answer does. One frequent interpretation is to talk about how they find the time to write, often talking about the hours of the day when they write. Many get up early in the morning to get a few hours of writing in before family obligations and a day job. Those lucky enough to write full time seem to lean towards writing in the morning, then as their brains tire in the afternoon they turn to marketing, editing, and other less taxing items on their to-do list.
I've always been a night person. My work day is scheduled to start at 7AM and there is no way I'm rolling out of bed any earlier than 6:55. The crack of 7:30 at the latest.
You're saying, "no problem, write at night," aren't you? That turns out to be the answer, but first I fought it. I've found that when I'm writing reviews I can seldom get my brain to cooperate more than an hour or two in the late afternoon and early evening with my most productive times being after I eventually roll out of bed late in the morning on weekends. I'd convinced myself this would be the same. But when writing posts for IU, later works out fine. Had I bothered to consider which of these was more like the book I was writing, it would have been obvious the IU posts were the better comparison. Once I realized this, finding time to write was suddenly much easier. If I'm sitting at the computer, caught up on the other tasks I needed to accomplish that day, it's a simple matter of closing the browser tab with Facebook or at least covering it with the word processing window so I won't get distracted, and knocking out a few hundred words (sometimes several thousand). There were a few nights when I only had half an hour at the end of the night, started typing, and suddenly realized it was way past bedtime. That's how those "crack of 7:30" mornings happen.
Most of you figured out a long time ago when to write and what you had to do to get rid of distractions in order to move your work-in-progress along. But this series is especially aimed at the greenhorns like myself. I'm sure many of you went through this same struggle. Help out the other neophytes by telling us what works for you and how you came to figure it out in the comments.