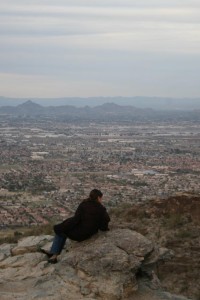 This spot will do nicely.

Selena regarded the valley far below with the first flicker of hope she had known since she was brought here three years ago.
She had come with a glad heart and and a young woman's dreams. She was one of the few who had made it from her war-torn village.
But her hopes were quickly crushed; she was delivered to Solano. Now she led a life of slavery, degradation, and abuse at the hands of strange men with dark desires.
It took a while to save enough money to get what she needed, but today would be the day. Any moment now, Solano would be coming by to find her and to deliver the requisite beating for being late with the night's earnings. He liked to do his own dirty work with the girls.
She smiled at that, knowing his own arrogance would be his undoing. Now she would do what she was trained to do as a guerrilla fighter back in her country. Yes, this spot will do nicely…
Welcome to the Indies Unlimited Flash Fiction Challenge. In 250 words or less, write a story incorporating the elements in the picture and the written prompt above. Do not include the prompt in your entry. The 250 word limit will be strictly enforced.
Please keep language and subject matter to a PG-13 level.
Use the comment section below to submit your entry. Entries will be accepted until Tuesday at 5:00 PM Pacific Time. No political or religious entries, please. Need help getting started? Read this article on how to write flash fiction.
On Tuesday night, judges will select the strongest entries, and on Wednesday afternoon, we will open voting to the public with an online poll so they may choose the winner. Voting will be open until 5:00 PM Thursday.
On Saturday morning, the winner will be recognized as we post the winning entry along with the picture as a feature. Then, at year end, the winners will be featured in an anthology like this one. Best of luck to you all in your writing!
Entries only in the comment section. Other comments will be deleted. See HERE for additional information and terms. Please note the rule changes for 2015.