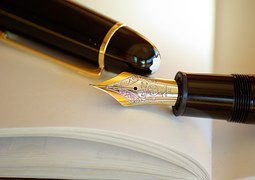 Back in December, I wrote about handwriting your book before typing it on the computer. We had quite a lively discussion about it, and I was pleased to see that many authors share my love of pens and the way they feel and write. In that vein, I decided to do a little round-up of pens.
Let me note here that I did not go out and buy every pen that people mentioned in the comments of that post. Writing the article, however, and the comments that followed did provide enough momentum for me to finally restock my dwindling supply of pens. In addition to that, my husband bought several different kinds and stuffed my Christmas stocking with them, so I am now well supplied. Here are the top candidates in my limited and very biased study.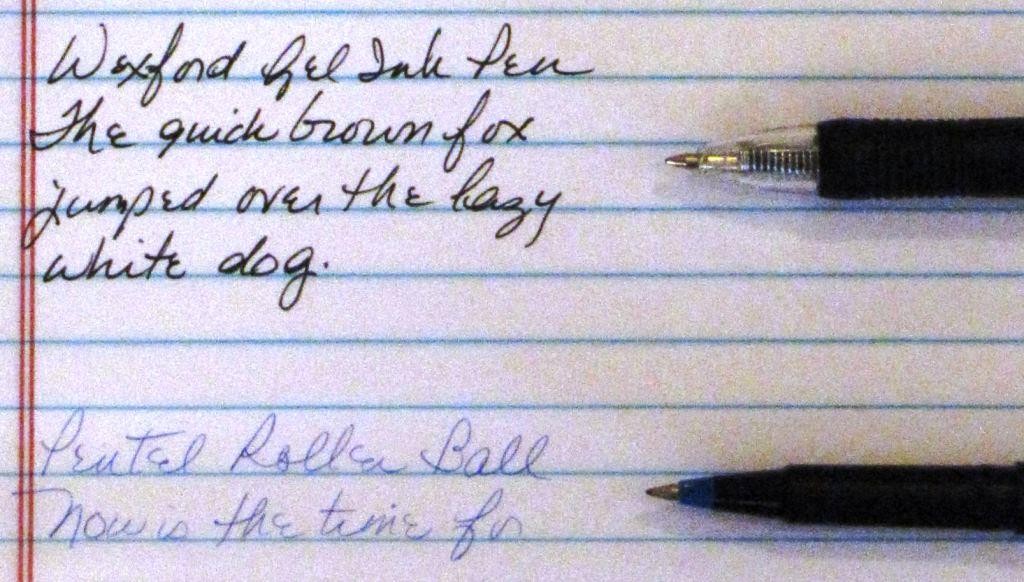 The first one is the Wexford Gel Ink Pen in black. This has a metal point and the gel flows nicely onto the page. Nice, crisp ink, easy to read. It has the thicker padded grip if you like that sort of thing. I prefer a more slender pen. I found these in my stocking on Christmas morning and have no idea of the cost. Amazon doesn't have them.
Second one is an old standby, the Pentel Rollerball pen. Again, a metal point with the micro rollerball. I've always found these to flow easily, but noticed that the ink isn't very dark. It could be that this is one I've had for a while, so it might be drying up. This is a fine point, and the medium point might be darker and more legible. Personally, I hate medium points; I go with the fine points every time. The Pentel Rollerball costs $18.60 for a dozen at Amazon.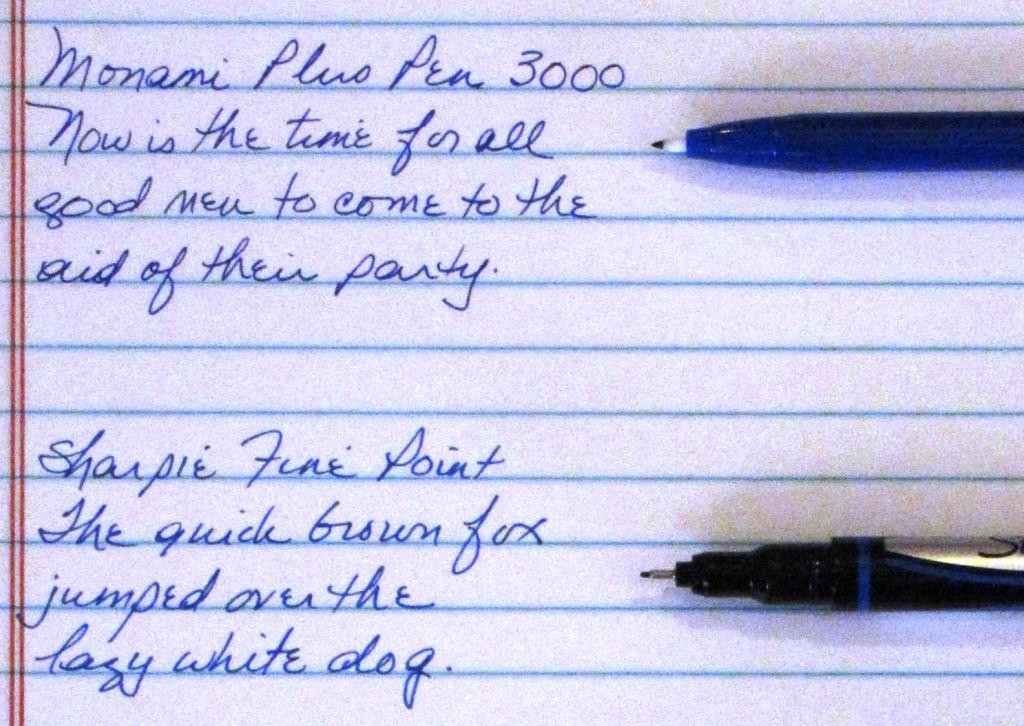 Number 3 is the Monami Plus Pen 3000, a plastic tipped pen with a chiseled point. I love this kind of pen point. I don't know why, but I love the fact that you can write thick or thin with it, depending on how you hold it to the paper. Some might not like the scratchy feel, as it doesn't glide like a gel or rollerball. They're cheap: only $5.99 for a dozen at Amazon.
Number 4 is the Sharpie Pen, Fine Point. This is different than the plain old Sharpie Fine Point marker. This really is a pen, and it has a metal point. I like this one well enough, but it doesn't have the same quality as the Monami plastic tip. I got mine from Santa, but they are $4.97 for a four-pack of assorted colors at Amazon.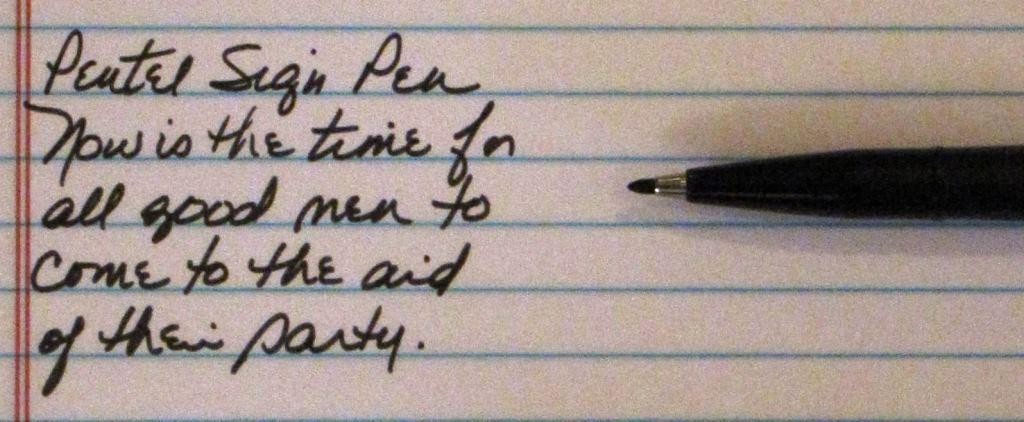 My hands down favorite is the Pentel Sign Pen. This has the plastic point that I love, and since it's slightly larger than the Monami, there is more variation on the thickness or thinness of the letters. And here I just said I don't like medium points, yet this one is closer to a medium point than a fine point. Go figure. This is probably as close to a calligraphy pen as you can get without having the flat chisel tip. It's the pen that inspires me to round out my letters and carry my flourishes to new heights. A steal at only $5.09 for a dozen at Amazon.
Since writing that earlier post, I've now started on my fifteenth book, and I'm handwriting it with a sign pen. I may never go back to the keyboard except when absolutely necessary.