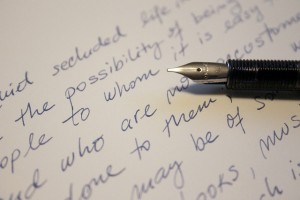 I'm guessing that most of us are always on the outlook for ways to increase our productivity, to open wider to inspiration, and get/keep the ideas flowing. But writing, like any art, is a process that defies capture, that eludes attempts to analyze, to reduce, to constrain. What works for one person won't work for the next. All we can do is keep trying new things, or simply keep doing what has worked for us in the past. On a whim, I wrote my latest book in longhand.
Yes, I heard the gasps, the sudden intake of shocked breaths. Longhand?? Like on lined paper? With a pen? Yes, exactly.
Why would I do that? Decades ago, that's how I wrote. From about 1975 to somewhere in the early 1990s, I wrote all my books in longhand. I carried around a legal pad with me everywhere I went, and I wrote on my breaks at work, on my lunch hour, waiting in the doctor's office, during commercials while watching TV.
The only drawback was that once I was done, I (or someone else) had to type up the flaming thing. I always hated that part, because usually when I had finished writing a book, I was completely drained by it, and I wanted no part of sitting down and going over the whole story again right away.
So why would I go back to that?
I think one of the biggest motivators was that I wanted to unchain myself from my computer, stuck way back at one end of the house in my office. Oh, sure, I have a laptop, but it's old and cranky and slow. I also have a tablet, but I hate typing on it. I hate screen keyboards. I can't touch type on those, plus they don't have that satisfying *click* when I hit a real key. And the truth is, the tactile senses are very important to me when I'm writing.
So I started handwriting for the mobile convenience, but I quickly realized that the physical movement involved in the act of writing by hand is (to me) seductive. I love the feel of the pen in my hand, and I love the act of drawing the ink across the paper. I found myself regaining my old cursive, the flowing hand with lots of flourishes, rather than the hasty scrawl I'd gotten used to for signing credit card receipts. I remembered how much I loved the process of forming the letters, the sweeping curves and the dipping links that join one letter to the next.
And crazy as it might sound, I believe the physical process drew out more inspiration. I just have this gut feeling that using my arms, hands, and fingers in this way pulls on my brain cells, fires them up, energizes them. For ages I've had this image in my head of a story swimming around in my brain, finally jumping the dam of my foramen magnum, rushing down my arm like a cataract, spreading into my fingers as a river at its delta, finally cozying up to my pen and sliding across the gap in a weird osmosis as blood changes to ink and then … voila. Writing. Lots of writing. Inspired writing. Inspiration that comes so fast, it's hard to keep up with it sometimes.
Is there any way to prove it? Nah. All I can say is that it worked for me. This latest book is the best I have written in quite a while. It shocked the crap out of me with its insight, its emotion, and its hopefulness.  Obviously I can't say that's a direct result of handwriting, but I have a sneaking suspicion that the two are connected on some level. And I'm not sure that anyone can refute that.