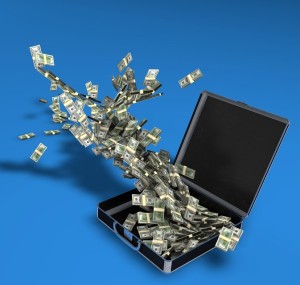 Happy New Year, authors. I'm going to try and help make 2016 begin with a bang for you, especially if you're Canadian.
If you're a Canadian author there are a couple of financial opportunities available that you may not be aware of. There are two organizations that would like to compensate you financially for your hard work. There is no charge to sign up for these programs, the checks come annually, and the payments are available to traditionally published authors as well as self-published authors. You just need to know where to apply.
The Public Right Lending Program (PLR) has been paying authors since 1987. The organization is administered by the Canada Council for the Arts and pays Canadian authors who have books that are available for borrow in Canadian libraries. The payment is not based on the amount of times your title has been loaned out but on the amount of titles you have available in libraries, as well as other variables. The folks at Canada Council of the Arts monitor libraries and then calculate how much they're going to pay you. But, first you have to apply. The application period is between mid-February and the beginning of May. And, if you miss it you're going to have to wait until next year. Until now PLR payments has applied only to print books but for 2016 they have opened their requirements to also include eBooks. That's quite exciting and will give authors even more ways to potentially cash in.
Here's the link to the PLR page for more information. Make sure you check the eligibility requirements. Some how-to non-fiction books are ineligible but fiction, children's literature and poetry is eligible. Once you've applied, the Canada Council will send you a new application each year at the beginning of the eligibility period so that you can add new titles.
Your second opportunity is through Access Copyright. If you become an affiliate with Access Copyright, they will try to make sure you receive payment if your work is copied, remixed or shared. Access Copyright is a non-profit organization and again, it's free to sign up. You only need to register once and then, if your work is eligible, they'll send you a check every November. When I first registered with them I ran into a couple of snags and had to click on the dreaded "Contact Us" tab. No worries though. They were very helpful and got me on track. This payment applies to print books only. Here's the Access Copyright site.
I've been paid each year by both of these organizations. I tend to do the paperwork and then forget about it until the check arrives, so it's always a nice surprise. Remember, bear in mind not everyone is eligible. But, you might be. Please take the time to check them out and if you qualify sign up. And, if you know any Canadian writers, pass the word. And yes, you're welcome and I know, the check is in the mail.