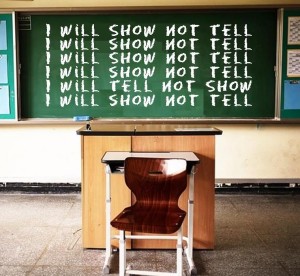 When I first sat down and put fingers to keys, full of optimism about being a writer, I looked for suggestions about how to write my first book. Any guesses what I found? The two most overused pieces of advice in writing: "Show, don't tell," and "Write what you know." If writers' groups were classic rock radio stations, those two pieces of advice would be Stairway to Heaven and Hey Jude. All good enough, as far as it went, but I didn't even understand what they meant.
It took me quite a while to get the hang of "showing," not "telling." Years, honestly. I never said I was bright, or a quick study, did I? Finally, ten years later, I think I've got it. Instead of just "telling" my reader what happens, I put them in the scene. Make them a part of it. Give them an emotional connection to the material. What I'm not sure of is when this became the way to go.
Recently, I saw the the SyFy Network was planning on releasing a miniseries of Arthur C. Clarke's Childhood's End. I read and loved the story when I was a teenager, but I thought I would read it again before trying to watch the show. When I did, I was surprised by what I found: paragraph after paragraph, page after page, of telling. Of course, there were scenes where Mr. Clarke showed me the action as well, but I was surprised by the ratio, which was three or four to one of telling to showing, by my admittedly inexact estimate. Don't take this as a criticism of Mr. Clarke or his book. As I said, I read and immensely enjoyed both that book and others by him decades ago. Out of interest, I pulled a few other books from my teenage reading pile and found the same was often true with them as well. A quick Google search tells me that fantasy authors, including George RR Martin, are often accused of too much telling as well. Judging by the popularity of his writing, I think Mr. Martin will manage to survive the criticism.
For me, I try to keep my ratio of showing vs. telling at five to one or so. There are certainly times when telling something is more expedient than the word wrestling match required in order to show it to the reader. Like most things, I think we just need to master the niceties of the rule before breaking it.
What about that other old chestnut, "Write what you know?" This one is more problematic on a surface level. This advice is what leads to so many stories about writers who can't come up with a decent idea to write about. I don't need to read any more stories about frustrated writers, thankyouverymuch.
So, does this advice hold any water at all? Of course it does. We just need to dive beneath the surface. "Write what you know," doesn't mean that you have to recreate your life's situation on paper – your job, where you live, what you do in the evenings – it just means to take the truth of a situation you have lived through and find the proper place to use it in a story.
Here's an example. In my current WIP, I have a fifty-three-year-old man occupying the body of his fifteen-year-old self, set in 1976. His mom is worried that he is acting differently, and so she wants to have a talk with him. This is where write what you know comes in handy. I thought back to my own teenage years and recalled a time when my own mom had a talk with me. She was convinced I was on drugs. A reasonable assumption in the seventies, but an inaccurate one – I was apparently the one teenager in America who hadn't smoked marijuana. The more I thought about it, the clearer that scene became to me: body language, my incredulity at being falsely accused, the silly little pamphlet she had picked up somewhere about talking to your teenager about drugs. The reality of that memory gave me everything I needed to write that scene effectively and draw the reader in as well. Why? Because I knew the truth of it.
That's why I keep notebooks full of old memories and try to jot a few down every day. I never know when the truth, the impact, of one of them, will fit perfectly with a story I'm writing. That's also why I try to be a keen observer when I am out in the world. When I am waiting to pump my gas, I watch the harried mom in front of me with a toddler screaming in the back seat. How does she stand, react, deal with the situation? I can almost certainly use that information in a future story.
I hope there will come a time in my writing when I can imagine a scenario and write it with the same realism that I do a borrowed memory. Until then, I will continue to write what I know.